The Royal Conservatoire of Scotland Award for Community/Education Project
Winner - Wagner's School of Cool: Lewis Forbes/Drake Music Scotland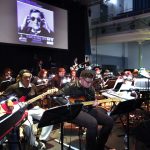 Drake Music Scotland commissioned Edinburgh-based composer Lewis Forbes to write 'Wagner's School of Cool' to showcase the talents of young disabled musicians from three of Edinburgh's special schools alongside their peers in the Edinburgh Schools Jazz Orchestra. Lewis is a composer and music teacher, awarded an MMus in Composition with Distinction from the University of Edinburgh in 2011. Since then he has worked as a music leader for children and young adults with additional support needs and he enjoys exploring innovative and adaptive music technology in his compositions, in this case uniquely inspired by Wagnerian themes and melodic ideas reimagined and arranged for an inclusive jazz orchestra.
The Wagner's School of Cool project was part of a series of Drake Music Scotland creative education projects encompassing commissions designed to exploit the musical sounds and features of the specialised technologies that make music accessible to disabled players. These instruments include the Soundbeam, iPads with apps such as Thumbjam, Skoogs, and laptops loaded with a range of music software enable participants to learn, play, compose and perform music. Figurenotes notation – based on matching coloured shapes representing the same information as conventional music notation – was used to enable pupils with learning difficulties and autism to read their parts.
Interview with Thursa Sanderson
The project culminated in a rollicking performance at the Queen's Hall in Edinburgh on 15th March 2016.
Go Compose!: sound (in partnership with Red Note Ensemble)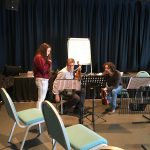 Go Compose provides an out-of-school opportunity for young people aged 14-19 to learn more about composition and inspire them to create their own music.
In collaboration with Red Note Ensemble and Sound and Music, sound has successfully delivered the Go Compose project annually since 2011.
Young people spend three full days at Woodend Barn in Banchory during the school October holidays working and learning from a team of professional composers and musicians who help them compose their own original pieces of music. Following the workshops the participants new works are premiered before an audience at Woodend Barn by Red Note Ensemble. Participants also receive a recording of their piece at the end of the course.
Songs from Above and Below: John McLeod (composer); Emily Mitchell/Geoffrey Tanti (performers); Live Music Now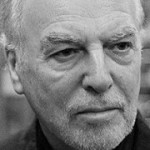 John McLeod is one of Scotland's foremost composers and amongst the UK's busiest and most prolific. He studied composition at the Royal Academy of Music with Sir Lennox Berkeley but later came under the influence of Lutoslawski who became his mentor. John has won many awards for his work including the Guinness Prize. In June 2016 he was appointed CBE in the Queen's Birthday Honours.
His works have been commissioned, performed and recorded by leading orchestras including the Philharmonia, Hallé, BBC SSO, RSNO, SCO, NYOS as well as orchestras in Poland, Germany and the USA and by many ensembles and international soloists.
Live Music Now Scotland provides performing, training and professional development experience for outstandingly talented emerging artists in the critical early stages of their careers while simultaneously bringing the transforming power of high quality live music to those throughout Scotland's communities who would otherwise not have such opportunity as part of their lives. With a pool of 120 of Scotland's finest musicians – classical, traditional, jazz, rock/pop, world – who are selected for exceptional musicianship and the ability to engage with a wide range of audiences, LMNS delivers 700 events in Scotland annually. Audiences include older people in care, children with special needs, adults with disabilities and the general public in galleries, museums and as part of prestigious festivals.