Holiday Inn Sound Art Work/Electroacoustic
Winner - Hanna Tuulikki: SOURCEMOUTH : LIQUIDBODY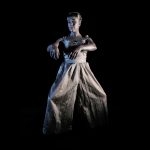 Hanna Tuulikki, an artist, composer and performer, works with the voice to unearth and re-imagine resonant stories of contemporary relevance. Her practice encompasses extended vocal composition, gestural choreography, innovative visual-scores, site-specific performance, sound and film installation, pen-and-ink drawing, and interactive new media. In research-led, multi-disciplinary projects, Tuulikki considers how sound, gesture, and language frame our connection with places and one another.
Recent works include commission for Kochi-Muziris Biennale SOURCEMOUTH : LIQUIDBODY (2016) – audio-visual installation inspired by the mnemonic landscapes of India and relationships between river-systems and Kutiyattam Sanskrit theatre; cloud-cuckoo-island (2016) – film-work featuring non-lexical solo vocal improvisation in a natural amphitheatre on the Isle of Eigg; Women of the Hill (2015) – site-specific performance commissioned by ATLAS, featuring a song-cycle responding to Iron-age archaeology and topography on Skye; SING SIGN: a close duet (2015) – wordless score for male-female duo commissioned by Edinburgh Art Festival, representing the body-in-communication in relation to gender and city (shortlisted for British Composer Award 2016); Away with the Birds (2010-2015) – multi-disciplinary project investigating the mimesis of birds in Gaelic song, featuring a composition for female ensemble performed on the Isle of Canna, as part of Glasgow 2014's Cultural Programme, with digital iteration commissioned by The Space, 2015.
Timothy Cooper: Mechanical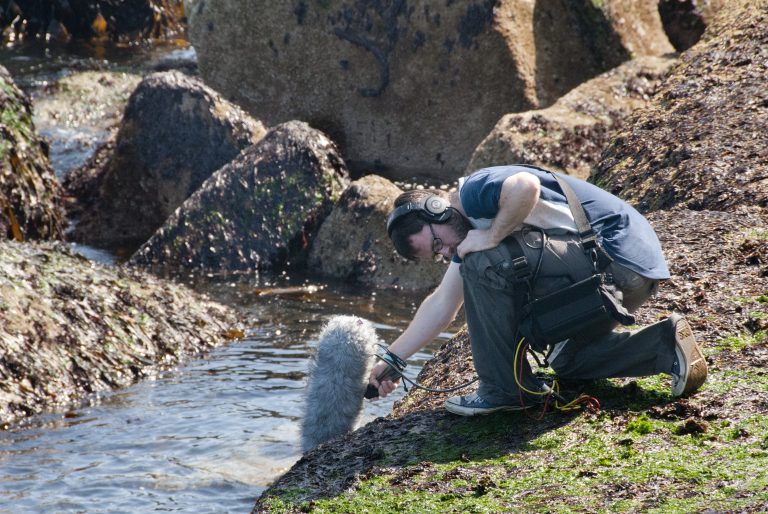 I am a composer and performer of electroacoustic music. In my music I explore how I can find new contexts for the sounds I work with. I use microphones as sonic microscopes and loudspeakers to amplify and heighten the qualities of the sounds I record so they can gather greater significance and energy.
Much of my work is collaborative and I am fortunate to be involved in current projects with excellent collaborators. Laura Bissell (poet) and I are exploring sea-words and sea-sounds. Samuel Tongue (poet), Susie Leiper (calligrapher/painter) and I recently spent time in Cove Park exploring the relationships between our practices and to work on the start of a new project. I am also composing a piece for Tuba and multi-channel live electronics with Danielle Price.
Pete Stollery: Pipeline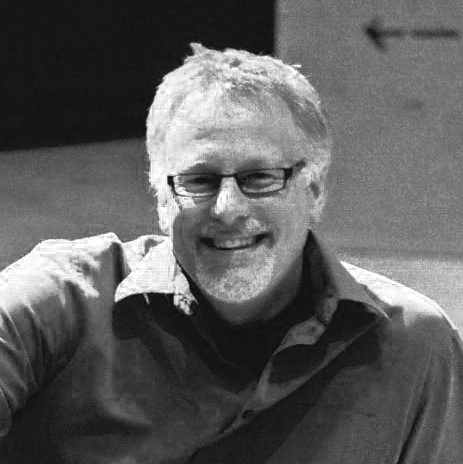 Pete Stollery studied composition with Jonty Harrison at the University of Birmingham, where he was one of the first members of BEAST in the early '80s. He composes music for concert hall performance, particularly acousmatic music and more recently has created work for outside the concert hall, including sound installations and internet projects.
He has collaborated with practitioners from other artistic disciplines, particularly dance and sculpture and has produced music and sound design for a number of UK visitor attractions including Dynamic Earth in Edinburgh, UK, Magna in Rotherham, UK and St Patrick's World in Downpatrick, Northern Ireland.
He is Professor of Composition and Electroacoustic Music at the University of Aberdeen, Scotland, delivering courses on the creative applications of technology in music and music education to students, schoolchildren and the general public.
In 1996, along with Alistair MacDonald, Robert Dow and Simon Atkinson, he established the group invisiblEARts whose aim is to perform acousmatic music throughout Scotland and to promote Scottish acousmatic music to a wider audience, both within Scotland and abroad. He is also Chair of the sound festival, Scotland's annual new music festival.
His music is published by the Canadian label empreintes DIGITALes.