EVM Recorded New Work
Winner - Songs & Lullabies: new works for solo cello: Robert Irvine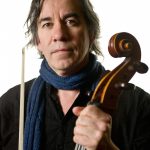 Robert Irvine was born in Glasgow, and at the age of 16 was awarded a scholarship to the Royal College of Music where he studied with Christopher Bunting and Amaryllis Fleming.
On leaving the Royal College, he went on to further studies with William Pleeth and Pierre Fournier before joining the Philharmonia as sub principal cello. He also worked extensively at Aldeburgh, forming the Brindisi String Quartet and working closely with Sir Peter Pears as continuo cellist and as principal cellist of the Britten Pears Orchestra. At this time he toured much of Europe with the Brindisi Quartet, making numerous festival appearances, broadcasts and recordings.
He left the Philharmonia in 1988 to take up the position of principal cello with the Academy of St Martin-in-the-Fields.
In 1990, he returned to Scotland to take up the post of principal cellist with Scottish Opera, and with Sally Beamish and James MacMillan founded the Chamber Group of Scotland, performing and broadcasting a wide range of music both chamber and solo.
He has recorded several CDs including the complete cello works of Sally Beamish for the Swedish label BIS, which received high critical acclaim, including CD of the month in the Gramophone magazine in December 2001. 2008 saw the release of two new CDs for Delphian Records,the complete cello works of Giles Swayne with Fali Pavri on piano and sonatas by Rachmaninov and Shostakovich with Graeme McNaught.
He is a senior tutor of Cello and Chamber Music at the Royal Conservatoire of Scotland and Artistic Director of Red Note Ensemble.
Robert plays on a very fine cello by Melvin Goldsmith in 2014, and a fine bow by Howard Green, made in 2011.
Recording samples available here
Since it was the Day of Preparation: James MacMillan composer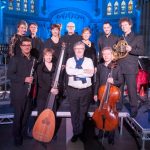 The first disc in a new recording partnership between Hebrides Ensemble and Delphian Records presents Sir James MacMillan's extraordinary setting – by turns intimate and dramatic – of the Resurrection story as told in St John's Gospel. As at the work's premiere at the 2012 Edinburgh International Festival, the Ensemble and its director William Conway (the work's dedicatee) are joined by bass Brindley Sherratt in the role of Christ, and by a pristine quartet of singers from Synergy Vocals. A significant landmark in MacMillan's career, Since it was the day of Preparation… now inaugurates a series of recordings set to document Hebrides Ensemble's outstanding contribution to Scottish cultural life.
Recording samples available here
Uhte: Henry McPherson composer, Ray Tallan director, BBC SSO, Martyn Brabbins conductor, RCS opera singers, RCS Digital Film and TV students, BBC Scotland studios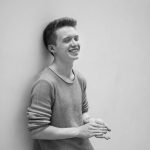 Henry McPherson is a composer/performer currently living and working in Glasgow. With a background in music, theatre, and visual art, Henry creates work coloured by a holistic world-view, producing auditory and cross-disciplinary pieces with a wide range of collaborators and artistic partners. Since 2013, he has been studying Composition at the Royal Conservatoire of Scotland in Glasgow, under the tutelage of Professor Rory Boyle.
Recent collaborations include: Ūhte, a short Opera-Film created in conjunction with the Royal Conservatoire of Scotland, Director Ray Tallan, BBC Scotland, and the BBC Scottish Symphony Orchestra with Martyn Brabbins; Mannequin, a piece exploring three caricatures of madness, performed in May 2016 by Frankfurt's Ensemble Modern under the baton of Australian-British conductor Toby Thatcher; an ongoing collaboration with Finnish mezzo-soprano Inkeri Kallio, consisting of a series of performances and workshops examining gender-presentation, Queer-identities, and the body in the tradition of Western Art Music; and an upcoming premiere of a new work to be performed by the Glasgow New Music Expedition in the RCS' PLUG festival 2017.
In January 2017, Henry was announced as one of the three winners of Scottish Opera's Opera Sparks Competition, the prize for which is the commission of a new short opera for SO's Connect Chorus. Maud, the story of Maud and the Dragon, based on folklore from Henry's home-county of Herefordshire, will premiere in early 2018. "
Film available on BBC here
Behind the scenes of the recording here