The Dorico Award for Small/Medium Scale New Work Sponsored by Steinberg
Winner - David Fennessy: Panopticon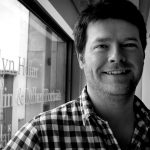 David Fennessy (b. 1976 Maynooth) began his musical life as guitarist in a school rock band but had no formal musical training until the age of fifteen when he decided to study classical guitar. He became interested in composition whilst studying for his undergraduate degree at the Dublin College of Music. In 1998 Fennessy moved to Glasgow to study for his Masters Degree at the Royal Scottish Academy of Music and Drama with James MacMillan. He was later invited to join the composition faculty and has held a teaching post there since 2005.
Fennessy was shortlisted for the Gaudeamus Music Prize in Amsterdam in both 2000 and 2006 and was a finalist for the Philharmonia's composition prize in 2004. His music has been chosen to represent Ireland at the International Rostrum of Composers.
Recent significant works include 5 Hofer Photographs for solo violoncello and Haupstimme, a work for solo viola and ensemble premiered by Garth Knox with Rednote Ensemble at last year's Huddersfield Festival. Since 2012 he has been working on a trilogy of large scale works based on the diaries of the German film director Werner Herzog written during the production of the 1982 movie Fitzcarraldo. In May 2016, Sweat of the Sun was premièred at the Münchener Biennale.
Fennessy's music has been performed nationally and internationally by many groups including the Royal Scottish National Orchestra, BBC Scottish Symphony Orchestra, BBC Symphony Orchestra, Ensemble Modern, Hebrides Ensemble, London Sinfonietta, RTE National Symphony Orchestra of Ireland and the RTE Concert Orchestra.
More info on the piece from Universal Edition
Claire McCue: Flicker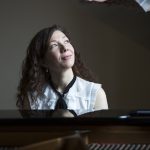 Claire McCue completed a Masters in composition, studying with Rory Boyle, at the Royal Conservatoire of Scotland, thanks to a generous scholarship, and graduated in 2011 with distinction, and several prizes. Her music has been broadcast on BBC Radio 3 and performed across the UK, as well as internationally. In 2015 she, again, won the Cottier's Chamber Music Festival composition competition, resulting in several performances by the Royal Scottish National Orchestra chamber ensemble and last year her string quartet was shortlisted by the British panel for Sounds of Tomorrow ISCM World Music Days 2016 as part of Tongyeong International Music Festival.
Claire also enjoys collaborative work including dance, visual art and short film,
with contrasting performances at Olympic park- London, Lilian Bayliss studios - Sadlers Wells, Tramway, Glasgow, Edinburgh Fringe Festival and CCA amongst others. Recent projects include some children's songs commissioned by the National Youth Choir of Scotland; Game?, commissioned by Cottier's 2016 festival, collaborating closely with choreographer Thomas Baylis and a quirky short film with New Zealand visual artist Jennifer Mason, Glasgow School of Art and Glasgow New Music Expedition, which was selected for the travelling finalists exhibition of the prominent Wallace Arts Awards in New Zealand.
Alasdair Nicolson: The Iris Murder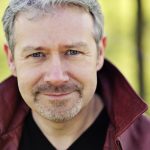 Alasdair Nicolson was born in Inverness, Scotland in 1961 and brought up on the Isle of Skye and the Black Isle. His first musical experiences were in traditional folk music before going on to study at Edinburgh University as an undergraduate, later returning as Shaw McFie Lang Fellow.
An award-winning composer, he came to prominence after winning the IBM Composers' Prize in the early 1990s and is now regarded as one of Scotland's most important new compositional voices alongside his contemporary James MacMillan. His music has its roots in old Scottish music and has been praised for its clarity, invention and emotional depth. Works have been performed and broadcast all over the world from New York to Santiago, Tokyo to Sydney. Most recently he has written an opera The Iris Murder premiered at the Cottier Chamber Project and a re-imagining of Purcell's King Arthur for London's Wigmore Hall. He is Director of the St Magnus Composers' Course for young professional composers and Artistic Director of the award-winning Sound Inventors Project which aims to engage school children with composing he has also taught at the Britten-Pears schools in Aldeburgh.
Current projects include a new piano concerto for Inon Barnatan and the Academy of St Martin in the Fields, a collaboration with the Norwegian writer John Fosse for the BBC Singers and Trondheim Soloists, a new work for pianist Rolf Hind in memory of Peter Maxwell Davies and a work for organ for Christian Wilson.