Award for Large Scale New Work (11+ performers), sponsored by PRS for Music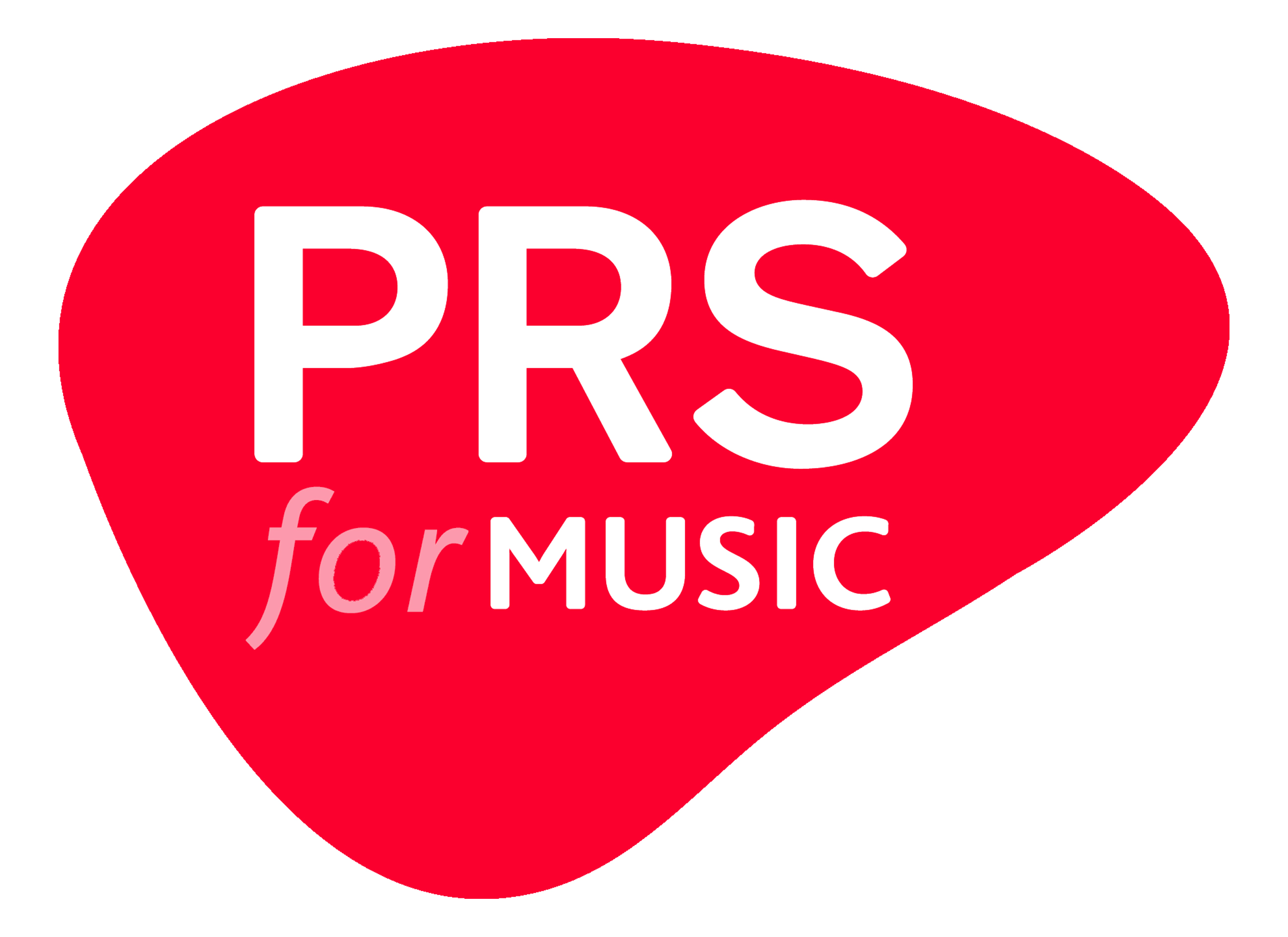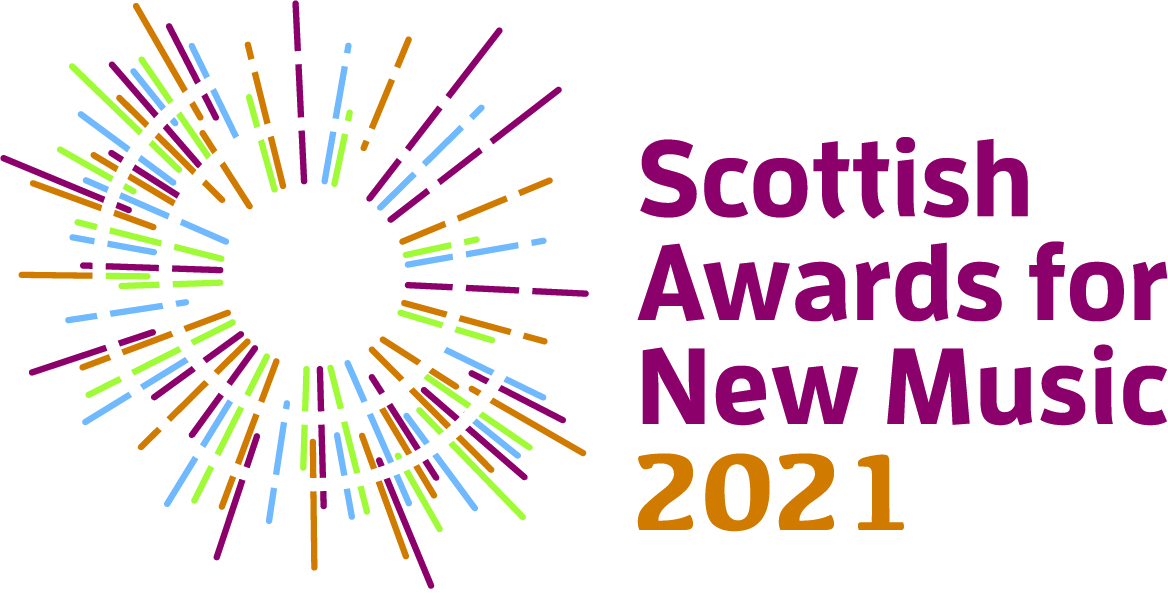 Real strength and depth in the nominations - lots of interesting sounds, ambitious ideas of structure, well crafted works, and really imaginative, creative pieces from a wide variety of composers - well-established, emerging voices, well known teachers...and their students... A huge number of pieces that the panel would happily listen to again, or see on a concert programme.
With this in mind, there's a larger shortlist than normal - 5 pieces. It was very close!
Panel: Vimbayi Kaziboni, Fergus McWilliam, Allison Kruusmaa, Matthew Studdart-Kennedy
Above the Stars – Aileen Sweeney
well constructed and planned phrasing, and a good mastery of timing, which draws the listener in. Well crafted, good orchestration, and a clear musical voice.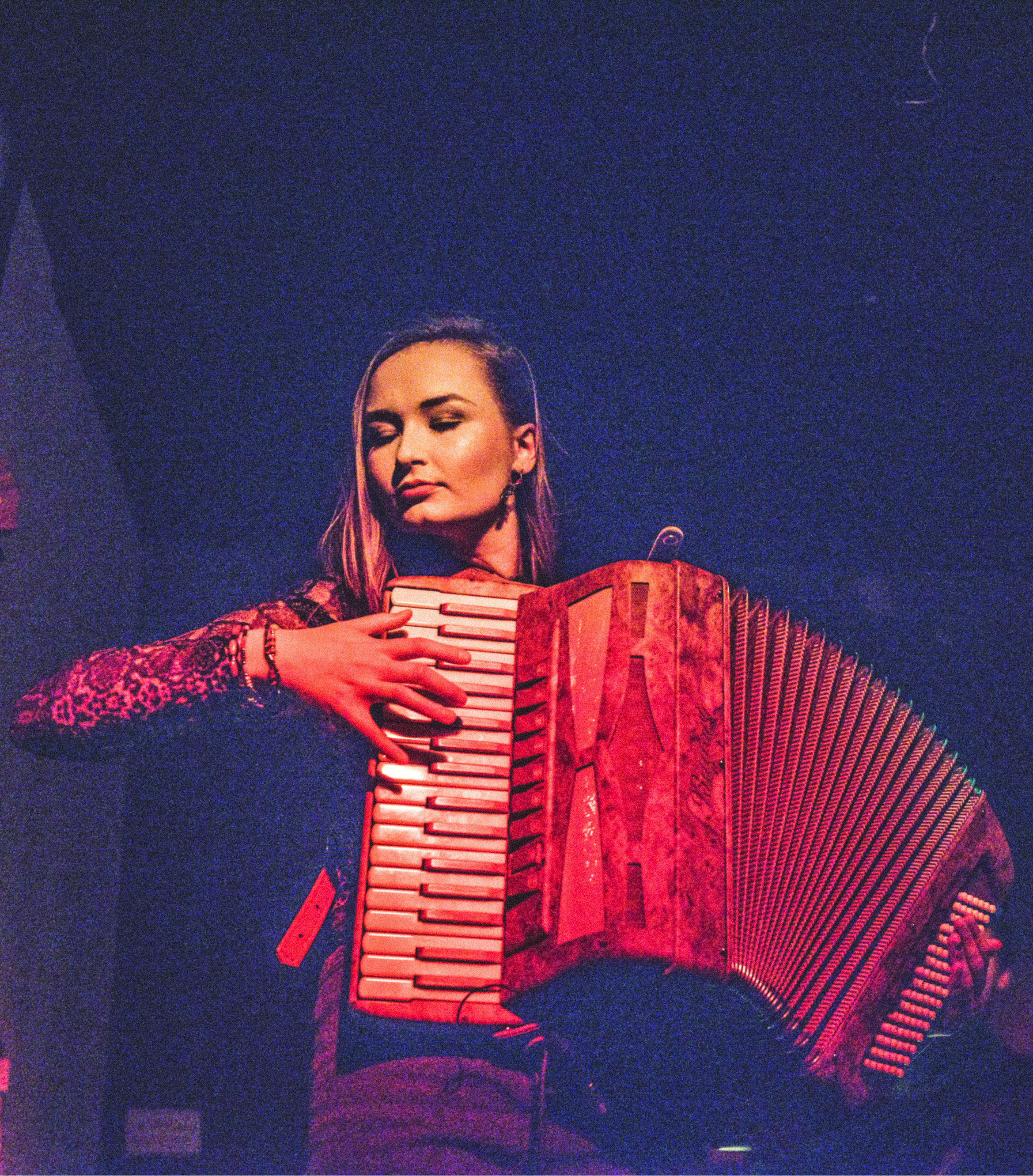 Aileen (b. 1994) is a Scottish composer and accordionist from Glasgow. Her music is cross-genre, infused with the ornamentation, energy and colours of the Scottish folk music she grew up playing when learning the accordion. Her is music is often influenced by nature and folklore as well as finding inspiration in current affairs she is passionate about such as climate change, equality and politics.
Aileen has worked with and been commissioned many of the UK's ensembles such as The London Philharmonic Orchestra, The Red Note Ensemble, The Nevis Ensemble, The Edinburgh Quartet, The Brodick Quartet, The Hebrides Ensemble and The Psappha Ensemble.
As an accordionist, she has performed with some of Scotland's leading contemporary music ensembles such as Ensemble Thing and NOISE Opera. In 2016, she founded the folk-fusion band Eriska who launched their debut album "At the Wrong Gig' in 2018 and are releasing their latest EP this year.
Aileen loves a natter and co-hosts the Ear to the Ground podcast, talking to Scottish/Scottish based composers about their work and promoting their music in partnership with New Music Scotland.
In 2017, Aileen graduated from The RCS with a First class BMus (hons) in performance having studied accordion and composition. During her undergraduate degree, she was awarded the Geddes-Peterson prize for composition and well as first place in the Dunbar-Gerber prize for chamber music and the Tony and Tania Webster solo recital prize. Aileen is currently studying an MMus degree in composition at The Royal Conservatoire of Scotland and is grateful to have received scholarships from The Dewar Arts Fund, The Countess of Munster Musical Trust, The Cross Trust and The North Lanarkshire Arts Award.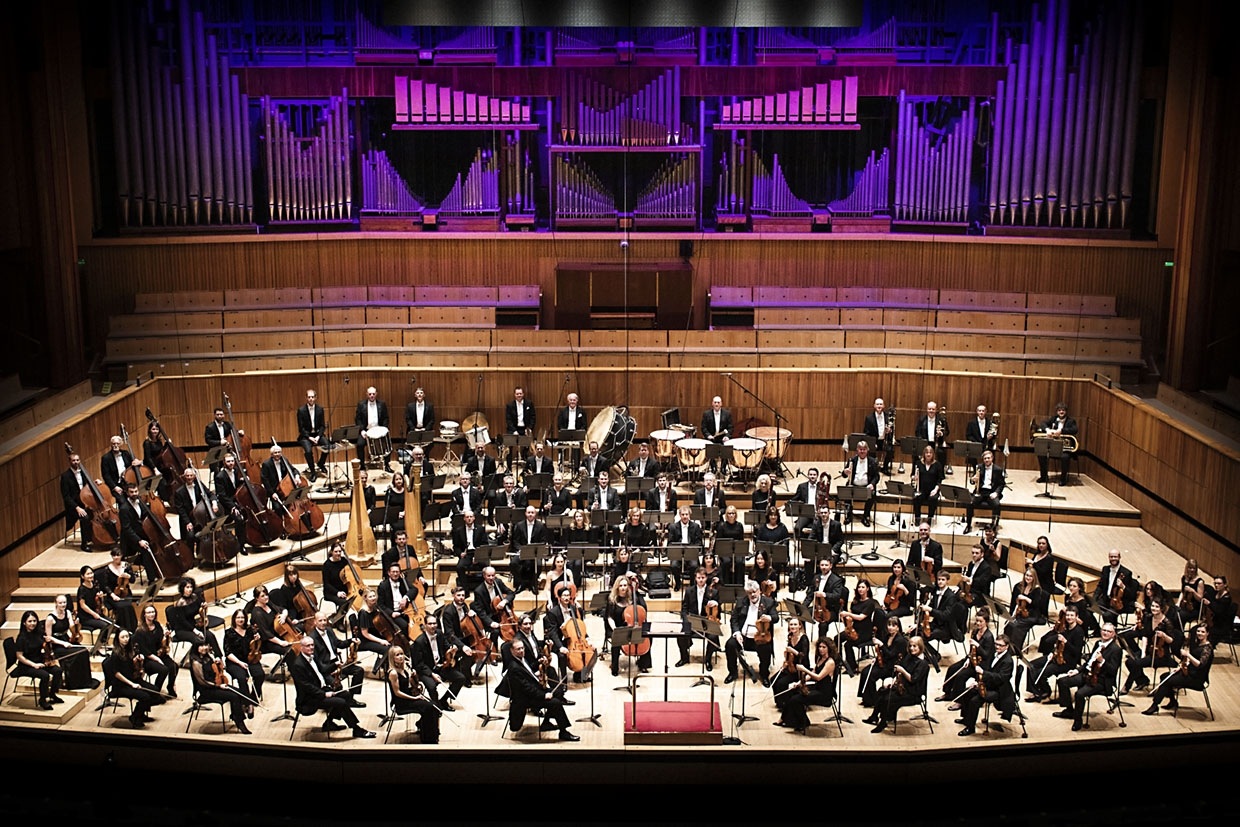 Programme Note:
2020 sees the 250th anniversary of Beethoven's birth but it is also the year that the UK left the European Union. Ode to Joy from Beethoven's 9th symphony has been used as a European anthem since 1972. It expresses the ideals of a united Europe: freedom, peace and solidarity but more recently, it has been used in protest against the UK leaving the EU.
Despite Scotland voting with a 62% majority to remain in the EU, Scotland will leave the EU along with the rest of the UK. This piece explores Scotland's unique relationship with the EU from within the UK which is why I drew upon strong influences from Scottish folk music, capturing this idea of Scotland's political voice. The piece begins with tiny snippets of folk music, that at first may go unnoticed. However these fragments build, demanding to be heard, until a fully formed melody is played at full volume, across the whole orchestra which certainly can't be ignored.
The "Ode to Joy" theme is used solely in the final section of the piece. The theme remains perfectly intact but is played at various speeds and registers layered on top of one another meaning it is heavily disguised. The theme is first heard in the harp and then subsequently in the vibraphone, cello and bassoon.
"Above the Stars" is a snippet of text taken from the English translation of Ode to Joy. The title nods towards the 12 stars of the European flag, the number 12 being the symbol of perfection and entirety.
Pharmakeia – James Dillon
instantly identifiable as James Dillon's musical language, the tension of the piece captivates the listener in this well crafted work.
https://www.editionpeters.com/composer/dillon-james/w01097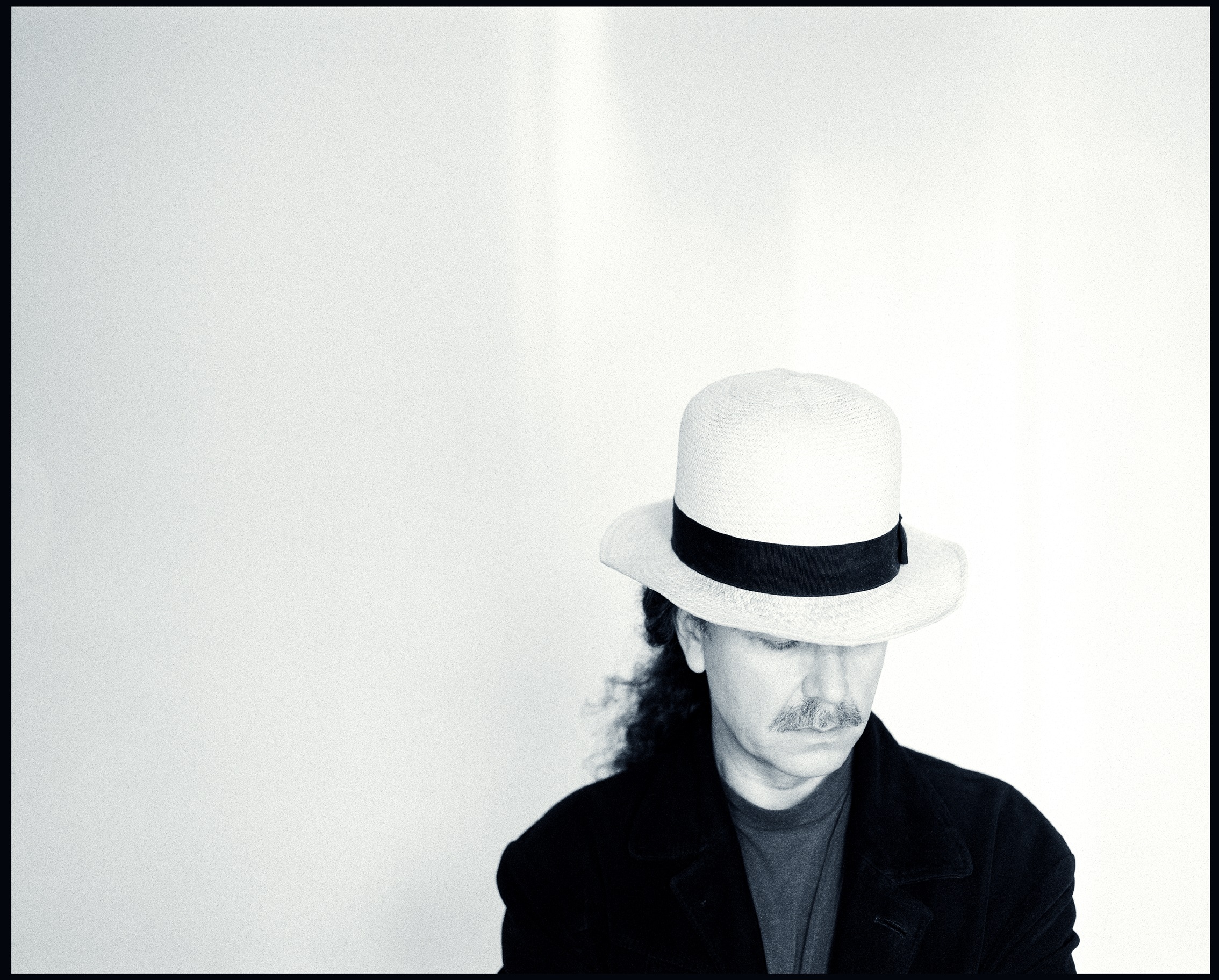 James Dillon is one of the UK's most internationally celebrated and performed composers. The recipient of a number of prizes and awards including the Kranichsteiner Musikpreis and the Japan Foundation Artist Scholarship, he has also won an unprecedented five RPS Awards for composition, most recently winning 2018's Chamber-scale Composition category for Tanz/haus : triptych 2017. In 1983, Dillon's First String Quartet received its premiere with the Arditti Quartet at the Huddersfield Contemporary Music Festival. The Arditti Quartet has remained closely involved with the composer, having premiered and widely performed Dillon's subsequent quartets and giving the first performance of The Gates, for string quartet and orchestra, at Donaueschinger Musiktage in 2016. Huddersfield is one of the many festivals to regularly feature Dillon's music. Physis I & II and Stabat Mater dolorosa were first performed at the 2014 festival whilst Dillon was composer-in-residence, the premiere of Tanz/haus : triptych 2017 opened the festival's 40th edition with Red Note Ensemble in 2017, and 2018 saw the UK and world premieres of his String Quartet No.8 and No.9 respectively. In 2020, the festival presented the premiere of Pharmakeia with the London Sinfonietta. As a composer often thinking in terms of large-scale, complementary forms, Nine Rivers, an enormous three-and-a-half hour sequence of works composed over more than two decades, was first performed by the BBC Scottish Symphony Orchestra in 2010 and subsequently heard in New York and at the 2013 Holland Festival to great acclaim. In the mid-1980s, Dillon began a 'German Triptych', a set of works based on the idea of 'illumination as the emanation from darkness', which Richard Toop described as 'a music full of figures which, like the stars, are intense, yet seem almost infinitely far away'. Other grouped works include L'évolution du vol, a song cycle for female voice and ensemble, and The Book of Elements, a cycle in five volumes for piano.
Temenos [from the Greek temno to 'cut'] has a more ancient predecessor in the Sumerian, temen, which referred to a sacred space, the origin of the Latin 'templum' (or the English 'temple' ), terms which also holds the root to the English word 'time'. Here space and time are 'cut off' from everyday activities, the foundation of both the temple and ritual, these sacred spaces are often chosen by a process of divination. Divination (or sympathetic magic) comes through the observation of natural phenomena for ex. an olive grove may be seen as a dwelling that housed god's image. Carl Jung relates the temenos to spellbinding or magic circles where the 'temenos' resembles among others a "symmetrical rose garden with a fountain in the middle (a squared circle)".
Strophe (from Greek στροφή, 'turn, bend, twist') is a concept which properly means 'a turn', as in the distribution of weight within a musical measure, or a turn from one side of a [Greek] chorus to the other. Here strophe a turns away from 'Temenos' and towards 'Circe'; strophe b turns away from 'Circe' and towards a by now silent Temenos.
Circe (Kirke) was a goddess of sorcery (Pharmakeia) who was skilled in the magic of transmutation, illusion, and necromancy. Circe's (Kirke's) name is derived from the Greek verb kirkoô meaning 'to secure with rings' or 'hoop around' – a reference to the binding power of magic.
This Departing Landscape – Martin Suckling
there's a well controlled energy and clever orchestration which creates an intriguing sound world - an ambitious concept, which the piece lives up to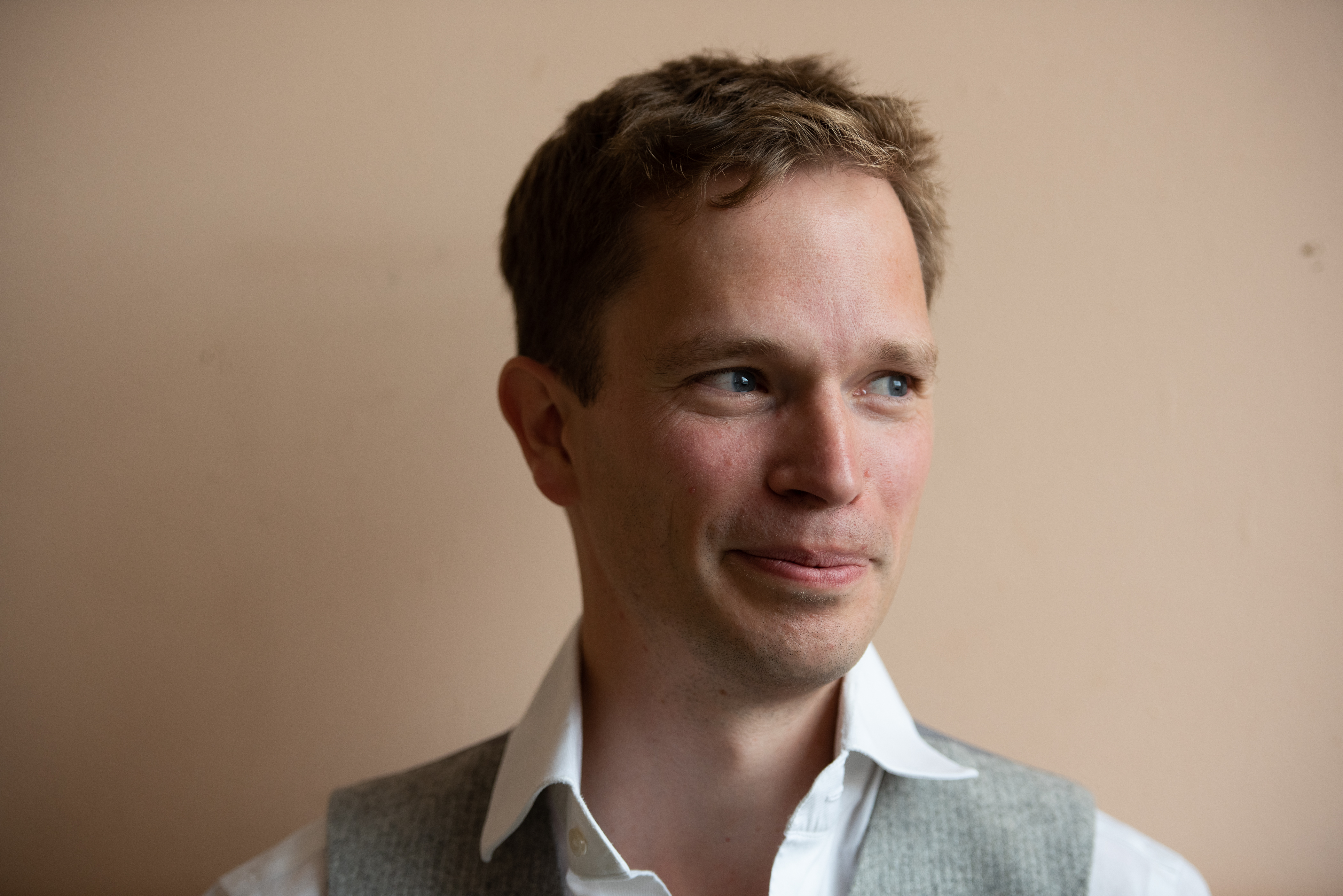 Born in Glasgow in 1981, Martin Suckling is a composer and violinist. His music has been championed by many leading orchestras and ensembles including the London Symphony Orchestra, Scottish Ensemble, Deutsches Symphonie-Orchester Berlin and the London Contemporary Orchestra. From 2013-18 Suckling was the Scottish Chamber Orchestra's Associate Composer, a partnership which resulted in Six Speechless Songs (premiered by Robin Ticciati and later revived by Oliver Knussen), a concerto for pianist Tom Poster, and Meditation (after Donne) for chamber orchestra and electronics. Other orchestral works include Release, premiered at the 2013 Tectonics festival by Ilan Volkov and the BBC Scottish Symphony Orchestra, and The White Road, a flute concerto for Katherine Bryan and the Royal Scottish National Orchestra (2017). Suckling also enjoys a close relationship with the Aurora Orchestra. A recent tour of Candlebird, conducted by Nicholas Collon, followed two commissions: Psalm for harp and spatialised ensembles premiered at the Royal Academy of Arts as part of Edmund de Waal's 'white' project in 2015, and the String Quintet Emily's Electrical Absence, the result of a collaboration with Poet in the City and Frances Leviston premiered in 2018. Other chamber works include Nocturne, a 2013 duo for violin and cello for Pekka Kuusisto and Peter Gregson, and a clarinet trio Visiones (after Goya) which premiered at the Aldeburgh Festival by Mark Simpson, Jean-Guihen Queyras and Tamara Stefanovich in 2015. Suckling received a Scottish Award for New Music for his song cycle The Tuning, commissioned by Oxford Lieder and premiered in 2019 by mezzo-soprano Marta Fontanals-Simmons. Suckling's latest orchestral work This Departing Landscape, commissioned by the BBC Philharmonic and completed in 2019, gives its name to a critically acclaimed orchestral portrait disc released by NMC in 2021. Suckling is published by Faber Music and is Professor of Composition at the University of York.
Morton Feldman once highlighted how music slips away from us even as we are hearing it: 'this departing landscape'. I love this strangely melancholic characterisation of music's elusiveness along with the idea of music as a physical space that we move through – or rather that moves past us, our backs to the future, the past stretching ahead into the distance, reconfiguring, distorting and eventually dissolving as we try to fix it in our memories. The force that propels the musical landscape became my focus for the composition of this piece. There's something magical in the way all music projects this energy, its ebbing and flowing, but orchestral energy is something particularly special. I remember as a young violinist sitting in my first rehearsal with NYOGB and being astonished by the sheer mass of sound of which I was part. Of course such a high- energy situation cannot be maintained indefinitely: we quickly accustom ourselves to new 'normals', loud loses intensity unless it gets louder, repetitions, at first exciting, lose their bite – music's dynamism relies on change. But musical energy emerges from a whole range of properties: not just how loud, how high, how fast, but also how tense, how thick, how far, how does one harmony suggest another and when does it arrive, at what point does one type of material switch to another and why... What if it were possible to use this variety to write twenty minutes of orchestral music that lived its life in a perpetual state of high energy? With this question, and Feldman's beautiful image, I began to write the piece. There are two movements, which run together without a break. The first presents a kaleidoscope of sharp-edged fragments constantly shifting into new configurations. There are abrupt changes of material and tempo: patterns loop, repeat and transform irregularly. These shards of music are broken from a small set of components – a brief melodic figure and a harmonic sequence of alternating 5ths and 3rds. In the second movement the pace is radically reduced. This is music of glacial energy: extremely heavy, extremely slow, an inexorable continuity of gradual transformation. Tone becomes microtone becomes noise – and out of the noise, pulsation returns, a series of accelerations spiralling unceasingly, and then suddenly cut off.
https://open.spotify.com/track/7ETvwWbRk5gMsKSIFDwMTa?si=8b35498e3b804a0f
Night Thoughts – Matthew Whiteside
really pushes the boundaries of what's possible with fragments of material, in a way that is interesting and effective. Good mixture of beautiful moments, surprising and unusual sounds, and tension.
https://newmusicscotland.co.uk/profile/matthew-whiteside/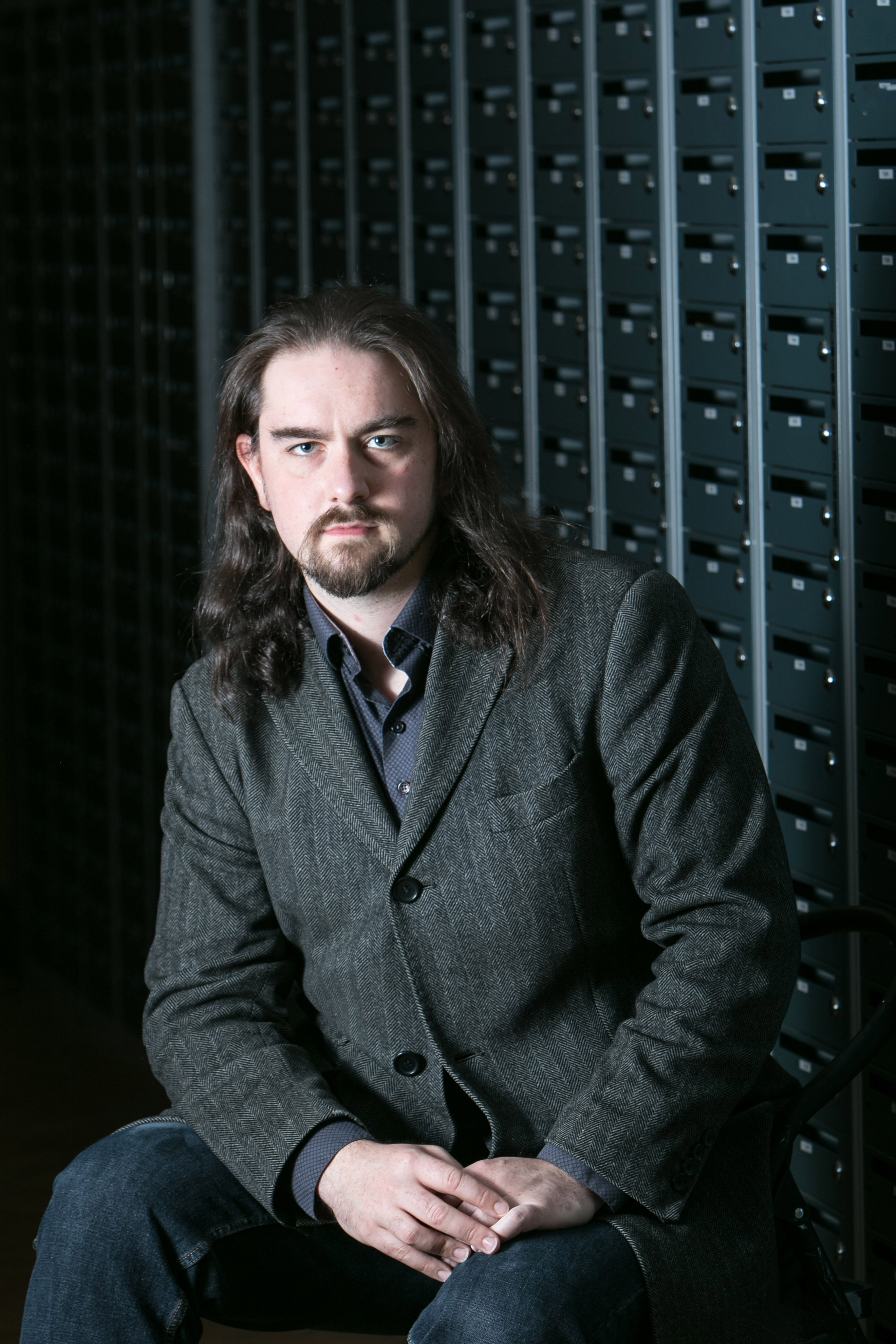 Matthew Whiteside is a composer and Artistic Director of The Night With… based in Glasgow. Winner of the SMIA Award for Creative Programming at the Scottish Awards for New Music 2020, named as one of the Lists Hot 100 for 2019, 'One to Watch' in the Herald's Culture Awards 2017 and winner of the Light Moves Innovative Use of Sound Award for his work Entangled with Marisa Zanotti. His music has been described as "Effective and Unsettling" by BBC Music Magazine and "post-minimalist bold sparseness" by the Herald. Recent work has included Night Thought, commissioned by Crash Ensemble for première at New Music Dublin 2020; a short opera Little Black Lies commissioned by Scottish Opera Connect, with libretto by Helene Grøn; Rama, commissioned by The Night With… for Ensemble Offspring, and Entangled, commissioned by the Institute of Physics for the 2018 NI Science Festival. He is currently writing a new pieces for solo violin and electronics for Pauline Kim Harris, based on Dido's Lament, and for Juice Vocal Ensemble for female vocal trio and electronics.
Programme Note:
Night Thoughts centres around a rocking figure which builds and collapses throughout the piece.
Vigil I – Ninfea Cruttwell-Reade
really interesting concept that was cleverly and effectively constructed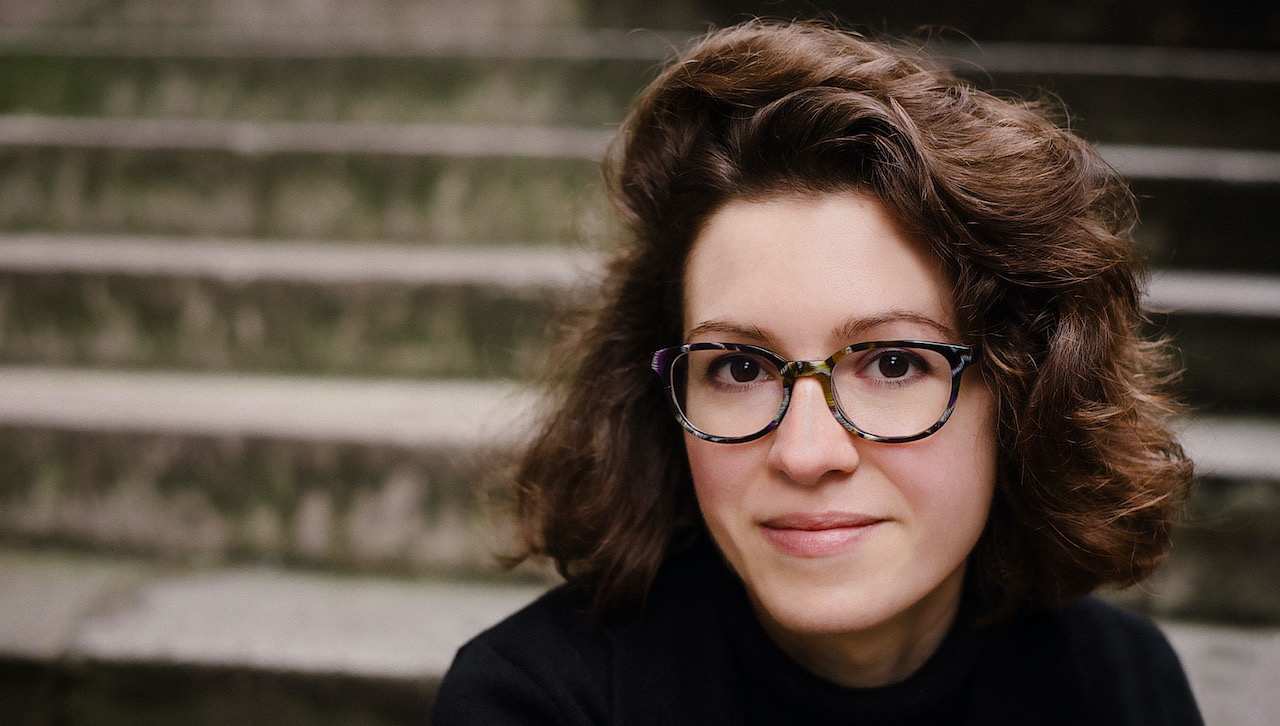 Ninfea Cruttwell-Reade is a composer and cellist based in Edinburgh. Composing for old, new, and damaged musical instruments, her past projects have included works for symphony orchestra, viols and theorbo, string and percussion quartets, a homemade glass harmonica, flower pots, and a fire-damaged piano. Recent projects include commissions from the Dunedin Consort, the Chelsea Music Festival in New York, and Edinburgh Youth Orchestra. In 2019-20 Ninfea received the Psappha Ensemble's Peter Maxwell Davies Commission for which she composed a piece for sitar and chamber ensemble. This project was supported by the PRS Foundation's Composers' Fund, enabling her to take sitar lessons with Jasdeep Singh Degun. Her orchestral works have been played by the London Symphony Orchestra, the Royal Scottish National Orchestra, and the New Jersey Symphony Orchestra. She is currently the Presteigne Festival's 'Evolve' composer for 2020–25 and a composer-in-residence at Glyndebourne. Ninfea has been a recipient of the UK's Royal Philharmonic Society Composition Prize and of a composition fellowship from the Tanglewood Music Centre in the United States. In 2018 she was commissioned to write 'Table Talk', a large ensemble brass work for the Tanglewood Music Festival, and her composition 'Hatters' was programmed at the festival the following year performed by the Boston Symphony Orchestra percussionists. Performances of her work during 2019–20 included 'The Opium-Eaters' by the Kaleidoscope Chamber Orchestra in Los Angeles, and 'Devil's Minion' by the Metropolis Ensemble in New York. Trained in cello performance and the academic study of music, Ninfea holds degrees from the University of Oxford and the Royal Academy of Music in London. She is currently a doctoral candidate in music composition at Princeton University. 'Five Letters from Aubrey Beardsley', her song cycle for countertenor and prepared piano based on letters by the art nouveau illustrator, was filmed in Princeton and shared online in 2020.
Commissioned by the Dunedin Consort in 2020, 'Vigil I' is a setting of the first poem in the sequence 'Vigilien' by Rainer Maria Rilke. These poems were published in Rilke's Larenopfer (1895), a cycle of 90 poems that turn their gaze towards Rilke's native city of Prague at the close of the nineteenth century. The first poem in 'Vigilien' speaks of dusk becoming night – of an atmosphere that is charged, wakeful, and expectant. My composition 'Vigil I' employs both Rilke's German text and an English translation by Jessie Lamont from 1918. Three vocal quartets interweave the German and English texts. Ninfea Cruttwell-Reade (2020)