The Dorico Award for Solo Work, sponsored by Steinberg
A really varied selection of pieces, compositional techniques, and musical voices meant that this category provoked a lot of discussion at the panel meeting! Really interesting - though maybe not surprising given the climate emergency and the interest in our environment that the pandemic triggered - to have so many pieces with strong links to the natural world.
Panel: Lenny Sayers, Eve O'Donnell, Susanne Stanzeleit, Lindsay Pell
Skydance – Ailie Robertson
atmospheric, beautiful piece, which had a meditative sense and was well written
Ailie Robertson is a musician in the broadest sense: composer, arranger, teacher, improviser and harp virtuoso. She has created full-scale operas, large-scale orchestral works, community projects, feature documentaries and installations. Her work has been performed and seen in over 30 countries and has been recognised internationally, with awards including the inaugural 'Achievement in New Music' prize at the Scottish Awards for New Music, a BBC PerformingArts Fellowship, and Musician of the Year nominee in the Scots Trad Music Awards.

She holds a BA Hons (1st class) from Cambridge University, a Masters from the Irish World Academy of Music and Dance, and a PhD in composition from Trinity Laban Conservatoire. Recent commissions include works for the BBC Proms, The London Philharmonic Orchestra, Bang on a Can, The St Magnus International Festival, Celtic Connections Festival, The Riot Ensemble, Red Note Ensemble, Cappella Nova, The Melbourne Recital Centre and Ensemble Perpetuo amongst others. She is currently Composer-in-Residence for Glyndebourne Opera and Sound Festival.
Programme note:
As with so many others around the world, I have spent the past 40 days almost entirely within the 4 walls of my flat in Glasgow. The highlight for me has been sitting at my window-seat every morning, watching the Spring slowly arrive. No matter how alone I have felt, sitting there, I realise how much life is around me...As I sit there, quietly, I see squirrels and hear the birds in the trees. I see the buds on the trees opening into leaves. I notice the subtle warming of the days. And for the first time in years, I take the time to just watch it all. It's a lot like meditation. But I think it's even deeper than that. The primary thing I think I get from that — in some strange way — is not feeling as alone. Nature goes on without us. It surrounds us always. Most people have never seen a hen harrier, but once witnessed it's rarely forgotten. Last spring, whilst in Orkney, I was lucky enough to spot one high above me, twirling and diving in the open sky. Utterly joyful. Completely free. Each spring over the heathland of the UK, the endangered bird undertakes a dramatic courtship ritual known as sky dancing. The male acrobatically rises and plunges repeatedly to an almost invisible audience in order to entice an on-looking female to take him as her mate.
This piece is a memory of that experience, a longing for that freedom, and a meditationand prayer that one of the outcomes of this time will be a greater awareness of ourrelationship with nature
Skydance was commissioned by Christoph and Marion Trestler, on behalf of the Riot Ensemble for Louise McMonagle as part of their Zeitgeist Commissioning Programme.
Her Lullaby – Martin Suckling
a mesmerising, spacious piece, very well crafted, which had an element of nostalgia woven within it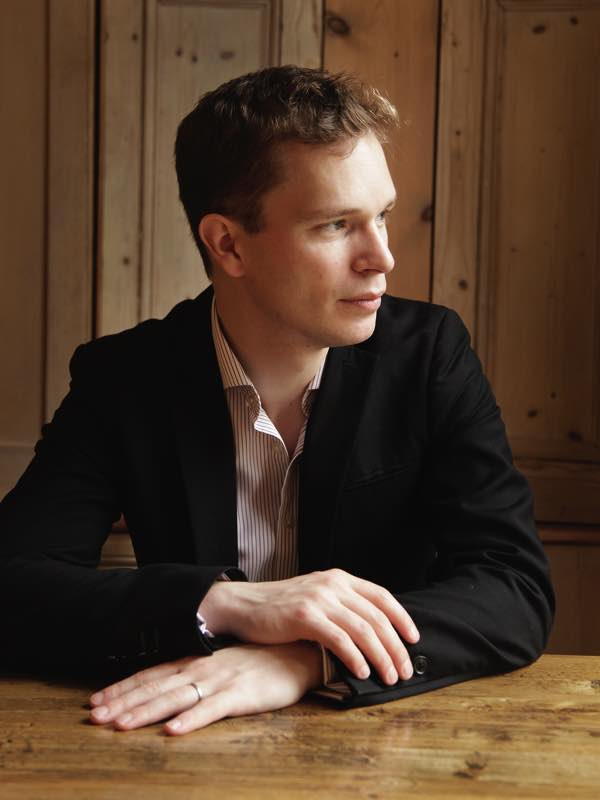 Born in Glasgow in 1981, Martin Suckling is a composer and violinist. His music has been championed by many leading orchestras and ensembles including the London Symphony Orchestra, Scottish Ensemble, Deutsches Symphonie-Orchester Berlin and the London Contemporary Orchestra.
From 2013-18 Suckling was the Scottish Chamber Orchestra's Associate Composer, a partnership which resulted in Six Speechless Songs (premiered by Robin Ticciati and later revived by Oliver Knussen), a concerto for pianist Tom Poster, and Meditation (after Donne) for chamber orchestra and electronics. Other orchestral works include Release, premiered at the 2013 Tectonics festival by Ilan Volkov and the BBC Scottish Symphony Orchestra, and The White Road, a flute concerto for Katherine Bryan and the Royal Scottish National Orchestra (2017).
Suckling also enjoys a close relationship with the Aurora Orchestra. A recent tour of Candlebird, conducted by Nicholas Collon, followed two commissions: Psalm for harp and spatialised ensembles premiered at the Royal Academy of Arts as part of Edmund de Waal's 'white' project in 2015, and the String Quintet Emily's Electrical Absence, the result of a collaboration with Poet in the City and Frances Leviston premiered in 2018. Other chamber works include Nocturne, a 2013 duo for violin and cello for Pekka Kuusisto and Peter Gregson, and a clarinet trio Visiones (after Goya) which premiered at the Aldeburgh Festival by Mark Simpson, Jean-Guihen Queyras and Tamara Stefanovich in 2015. Suckling received a Scottish Award for New Music for his song cycle The Tuning, commissioned by Oxford Lieder and premiered in 2019 by mezzo-soprano Marta Fontanals-Simmons.
Suckling's latest orchestral work This Departing Landscape, commissioned by the BBC Philharmonic and completed in 2019, gives its name to a critically acclaimed orchestral portrait disc released by NMC in 2021.
Suckling is published by Faber Music and is Professor of Composition at the University of York.
Programme note:
For several years, every night I would sing to my young children, sometimes for hours. Folksongs, songs made up on the spot, verse after verse, anything that could maintain a calm continuity of circling sound. (So many folksong plots are not the stuff of good night tenderness, but I sang them anyway.)
And then the children didn't need the songs any more. Which was in many ways a relief, but really I miss that calm timeless space of song gentling the night. The deep listening required of the solo performer in Her Lullaby – pitching the justly-tuned intervals, allowing the the harmonies to fuse in the body of the instrument, finding the right durations for each sound – alongside the strophe-by-strophe near-improvised extension of the melody recall for me those special times I spent with my children when they were very young, singing them across the border from wakefulness to sleep.
Curious-er – Sonia Allori
really interesting to hear a solo piece for this instrument - fascinating sound world, and a satisfying shape. Really drew the listener in, and the artistic integrity of the piece was impressive.
https://soundcloud.com/ultraviolet101-1
https://www.drakemusic.org/blog/becky-morris-knight/artist-in-residence-2020-sonia-allori-curious-er/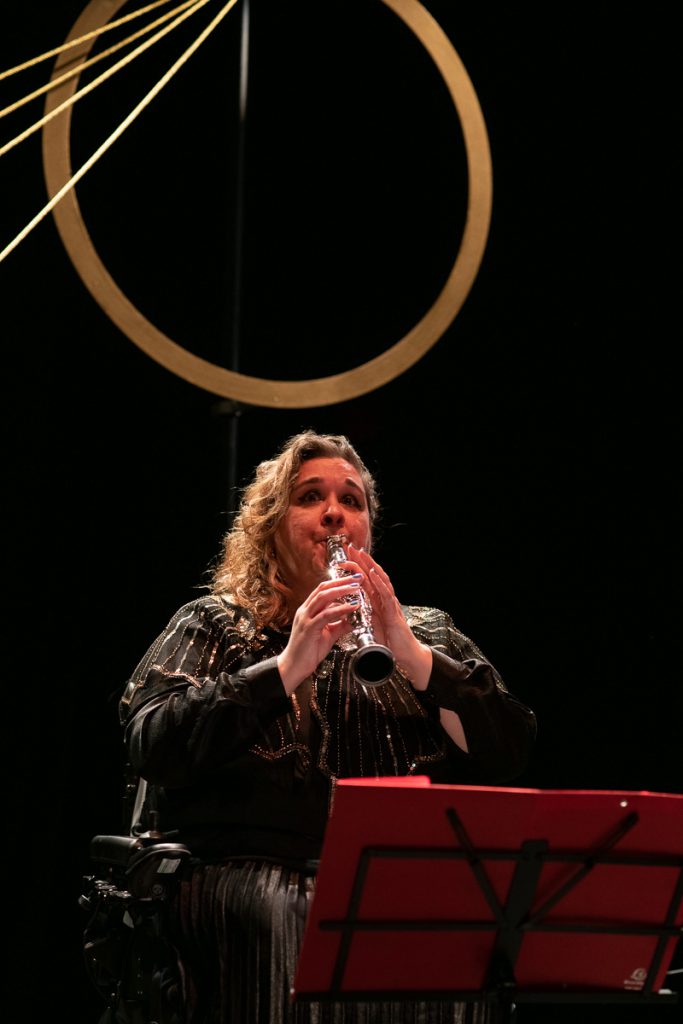 Sonia Allori is a composer, performer, researcher, and community music therapist based in the Scottish Highlands. Recent works are: F-email (2021) for alto flute, bass clarinet & voice track, commissioned by Rarescale (Capstone Theatre, Liverpool); Songs in isolation (2021) – electro-acoustic song trilogy commissioned by Disability Arts Online; Curious-er (2020) for Electronic Wind Instrument (EWI) commissioned by Drake Music (London); Concentric Circles (2019) for BSL performer, clarinet & piano – commissioned by Ben Lunn; Memorial to an important lace shirt (2018) – electroacoustic art song commissioned by Hatton Gallery (Newcastle) for Exploding Collage exhibition; Last tango in Liverpool (2018) for trombone, string quartet and voice track – commissioned by DadaFest (Bluecoat, Liverpool); Lost & found (2017/18) – Song Cycle, commissioned by Drake Music Scotland & PRS (Eden Court Theatre, Inverness); Fall from grace (2017) for bassoon choir and voice track commissioned by Sound Festival Aberdeen.
She completed a PhD in composition which explored interactions between music and text at Edinburgh Napier University. In 2019 Sonia was a Music Fellow in Learning & Participation at Trinity Laban and performed in The Lost Thing for Royal Opera House/Candoco and in Ellie Griffith's Sound Symphony (Independent Arts Projects/ Oily Cart Theatre) which toured Scotland. In 2020 Sonia was Artist in Residence at Drake Music (London). She is currently researching D/deaf performance at the Royal Conservatoire of Scotland and is Development Artist at Sonic Bothy. New collaborative commissions are in the planning stage with Drake Music Scotland, Sonic Bothy and Independent Arts Projects for later in 2021 and beyond. Sonia is deaf and a wheelchair user. She plays clarinet, EWI, sax and bassoon (although not usually all at once) and has been known to sing from time to time.
Programme note:
'Curious-er' is a new work composed specifically for the EWI.
It announces itself confidently with a single note, then leads the listener deeper, the poetic stanza and gradual introduction of glitchy electronic and atmospheric sounds inviting us to listen differently.
'What can you hear when you see the sea?
Nothing now but remembered sounds.
Wheels cut trails through velvet sand,
Deeper and deeper making narrow bands.
You chance upon a shell,
Casting shadows like ears,
In the afternoon sun'."
Throughout the work the EWI is heard in several sonic guises repeating the same 4 note melodic fragment. Sometimes sounding like a clarinet or a sax and at others an 80's synth. The fragment weaves it's way throughout, creating complex and nuanced layers of electronica while at the base of the texture the words are repeated with pitch deepened and tempo slowed down.
'Curious-er' never settles and is by turns eerie, unsettling, mysterious and hopeful. It ends with a cliff-hanger.
Omanjana – Simon Thacker
extremely well written for the instrument, and fuses contemporary performance techniques and approaches with world music in a way that captivates the listener, and avoids the clichés that can be common when musical languages mix
https://soundcloud.com/simon-thacker/omanjana-by-simon-thacker/s-HHtKU0erylI and www.simonthacker.com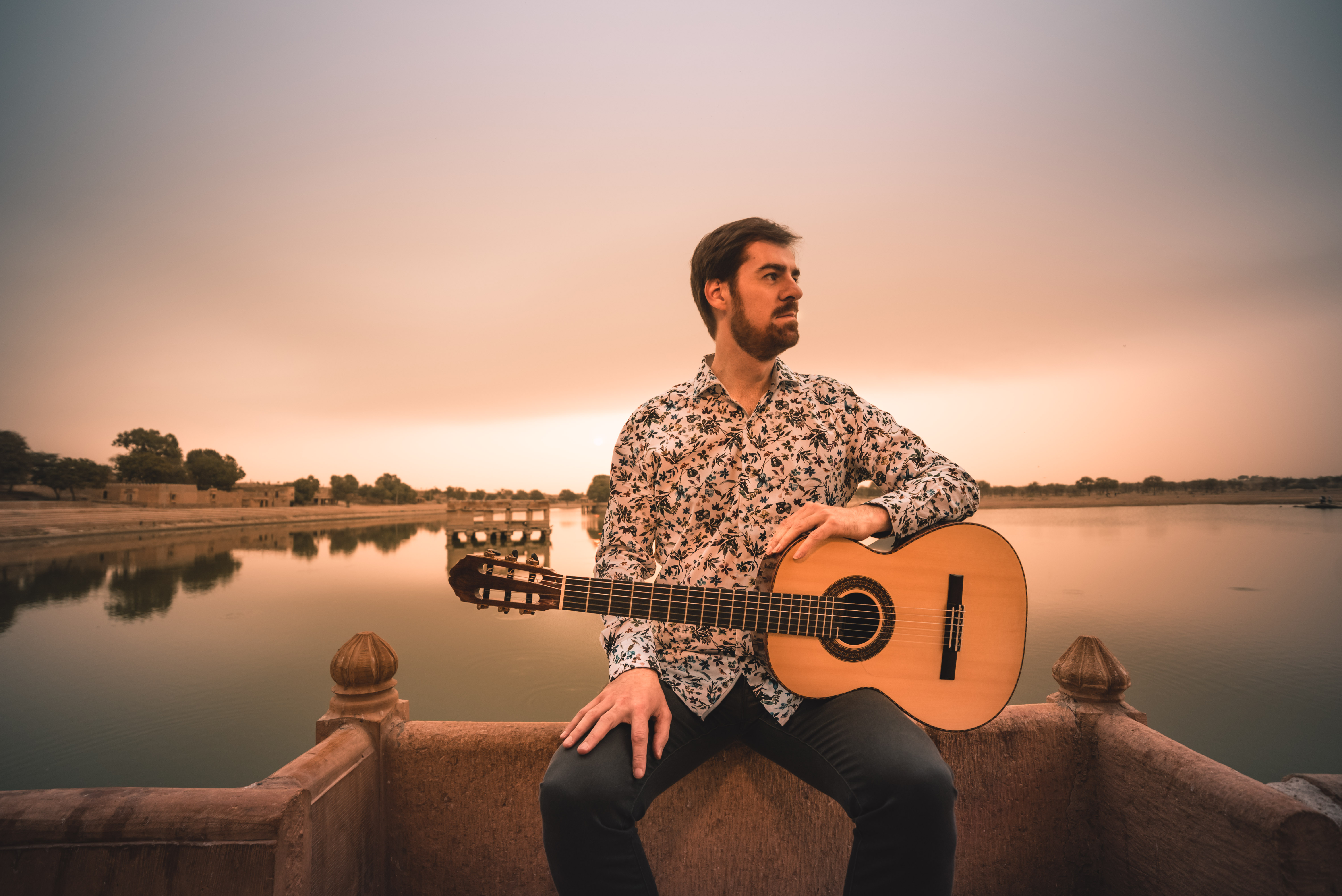 Simon Thacker is a composer, classical guitarist,improviser and ensemble leader. His ever expanding musical world develops newpossibilities through a deep immersion in diverse cultures.
As well as touring as a soloist, Simon has also developed some of today's mostprescient ensembles, all of which exclusively perform his original compositionsand reimaginings. Simon Thacker's Svara-Kanti is an Indo-Westerncommunity expanding on Hindustani, Carnatic, Punjabi folk and Baul spiritualinfluences. This has seen him tour and collaborate at major festivals in India,Pakistan and Bangladesh, including for an audience of 60 000 in Dhaka, and TheSacred Pushkar, one of the region's biggest sacred music festivals. TheirTrikala double album won a Scottish New Music Award in 2019. Simon Thacker's Ritmata is a musical laboratorywith three leading improvisers. The centerpiece of their 2019 Tàradh album,Quadriga in 5, was nominated for the Ivors Composer Awards (Jazz Small Ensemblecategory). Karmana is a chamber duo with Polish cellistJustyna Jablonska. Simon's next album will be Songs of the Roma with Justynaand Roma singer/violinist Masha Natanson. All of these groups have been selected for theprestigious Made in Scotland showcase.
Simon's music has been played on radio in over 50 countries. He has been guitartutor at Edinburgh Napier University and Edinburgh College for fifteen yearsand performed as soloist with many orchestras, including the RSNO.
In February 2020 Simon presented an instrumental trio incarnation of SimonThacker's Svara-Kanti at Celtic Connections. In March 2020 he brought the Indiaand Bangladesh based Baul spiritual lineup of Svara-Kanti to tour Scotland. In 2019he toured his Pashyanti solo programme in India, including Goa and GurgaonInternational Jazz Festivals, and Delhi's "Giants of Jazz" series.Pashyanti will represent the country as part of Made in Scotland 2021 at theEdinburgh Festival Fringe.
Programme note:
Omanjana by Simon Thacker
During lockdown in 2020 I would often come up with short semi improvised pieces in a few minutes at the end of the day, and record them on my phone to send to a circle of friends in India and Bangladesh. Poems, Bengali songs, pen sketches and paintings would come the other way. The aim was simply to share inspiration and keep spirits up in a pretty grim period.
I liked several of these semi improvisations so much that, in time, I returned to the recordings and developed them into fully fledged compositions.
Omanjana is a composite of: Om, the sound that signifies the energies of Brahma Dev (associated with creation, knowledge and Vedas); and Anjana, kajol in Bengali, a sulphide traditionally applied to the eyelashes and eyelids. Anjana is also the mother of Lord Hanuman, otherwise known as the "Monkey God", but here Omanjana refers to the kajol of Brahma. It also happens to be the first name of one of my aforementioned friends.
Most of the first half is largely unchanged from the original improvisation. I find it interesting to consider how easily inspiration strikes when there is a need and impetus, and how disparate ideas that have been floating around in your subconscious suddenly coalesce into something tangible. In this period, after years of experimenting with different ways to push ragas and my own tonal language in new directions, I found myself once again excited by taking modes or major and minor scales as a starting point to explore from.
Rhythmically Omanjana often finds exhilaration in juxtaposition: off beat semi quavers emphatically returning to fierce arrival points or interrupted by unpredictable subdivisions; fiery six string flamenco style rasgueado chords at full power suddenly giving way to a distant yet insistently syncopated single note, as if the latter had been continuing all along; waves of triplet based passages, to duple and back again.
Harmonically Omanjana starts in E minor. The lowest string is tuned down to C, though this is concealed until the first ecstatic rasgueado section, in C Lydian. The tonal centre moves several times before a big shift to F# and a vividly increased rate of tonal change leads to the final tihai (a tripartite rhythmic cadence) within a tihai: the expected third repetition of the tihai is actually another tihai, now surging in triplet quavers.
Omanjana is a particularly direct and characteristically multi layered expression of friendship and joy in sharing creativity.