Electroacoustic/sound art work
Winner - Dhātu – Edwin Hillier
Edwin Hillier​ is a British composer based in Glasgow. His work investigates the corporeal connection between musician and instrument, employing a tactile and highly physical approach to sonic exploration. Edwin's music has been presented internationally, including performances at the Huddersfield Contemporary Music Festival – with UK premieres in both 2014 and 2015 – Royaumont Festival (France, 2016 and 2017), at the Wigmore Hall, Kings Place, Roulette (NYC), Nonclassical, and by artists including the London Sinfonietta, Lore Lixenberg, Quatuor Tana, members of EXAUDI, Talea Ensemble (US) and conductors James Baker and Garry Walker. His work ​Soliloquies was recently broadcast on France Musique, and ​Hibeh ​released on the NMC Record Label. Edwin is currently pursuing a doctorate in Composition at the Royal College of Music, London.
Listening Cave - Calum Scott
Calum Scott is a sound artist from Aberdeen, Scotland currently undertaking AHRC funded doctoral research at the University of Glasgow. His research focuses on the development of object based sound art works (or sound sculptures) which seek to interrogate links between sound and the physical world.
Calum's sound practice involves the creation of electronically actuated physical objects and assemblages that produce raw/acoustic sound. It stands in contrast to acousmatic sound work by using technologies of sound reproduction as acoustical motors which produce sound rather than as transparent media which carry it. A key methodology in his work is the recreation of existing sounding objects as stimulus for his creative process. This form of 'creative media archaeology' seeks to explore aspects of the historical through a creative reengagement with objects.
Calum's work has been exhibited by the Courtauld Institute/ Aberystwyth University (Noises of Art conference), the Hunterian Art Gallery, Queens University Belfast (Sonorities Festival) and Leith Theatre (Hidden Door Festival).
...shadows that in darkness dwell... - Timothy Cooper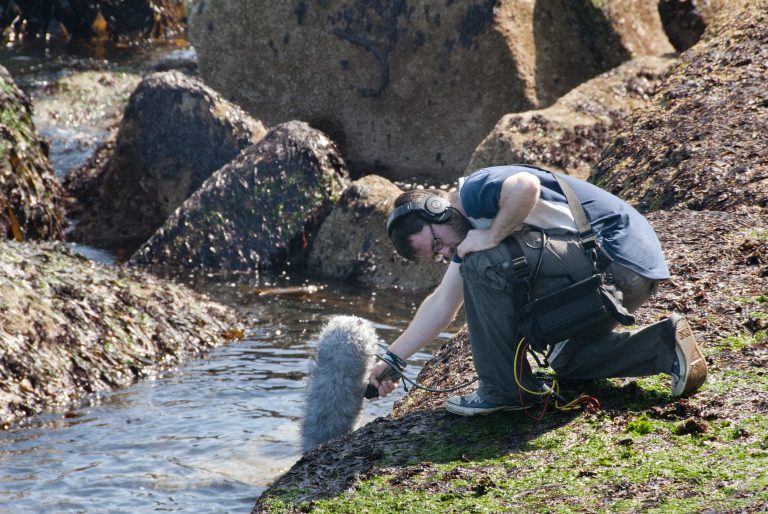 Timothy Cooper is a composer and performer of electroacoustic music. In his music he explores new contexts for the sounds he works with. He uses microphones as sonic microscopes and loudspeakers to amplify and heighten the qualities of the sounds he records.
Recent projects include the site-responsive installation Tide Times made with Laura Bissell, Breathing Space for tuba and electronics composed for Danielle Price and most recently ...shadows that in darkness dwell… for counter tenor, recorder, theorbo, baroque cello and electronics commissioned by The Night With…
Tim is a PhD candidate at the Royal Conservatoire of Scotland supervised by Professor Alistair MacDonald and Dr Diana Salazar.
He lectures at the Royal Conservatoire of Scotland.
www.tidetimescramond.wordpress.com