ISCM 2023
The Scottish Music Centre and New Music Scotland are pleased to announce the composers and works selected by the Scottish Section of the ISCM (International Society of Contemporary Music) to represent Scotland at the ISCM World Music Days 2023, taking place in Johannesburg December this year.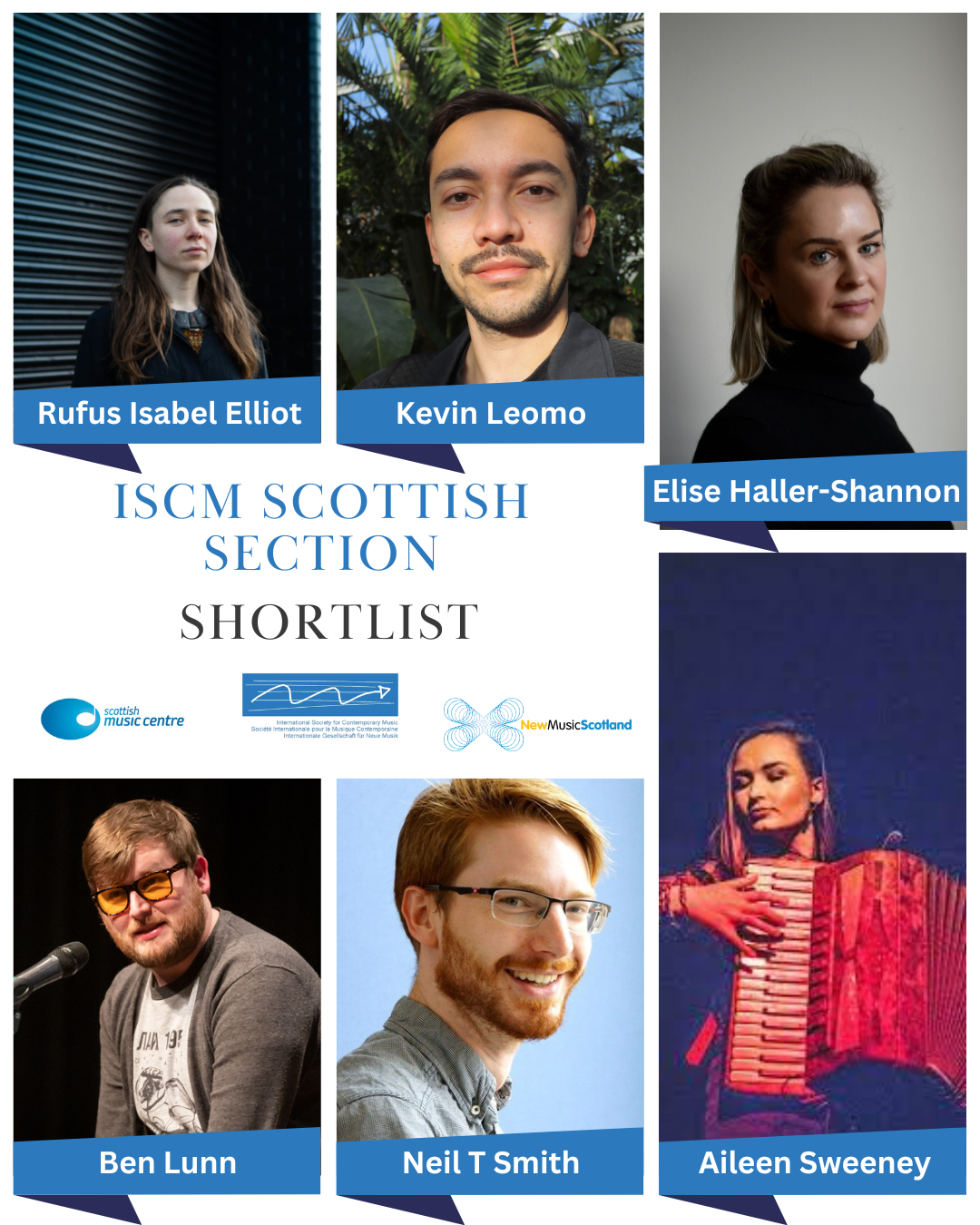 The Scottish panel selected a shortlist of six composers' works as the official submission for the consideration of the international jury.
At least one of the six works included in our national submission will be performed during the festival.
24 submissions were received from Scottish and Scottish-based composers, across 11 categories. The announcement of the works selected for performance across the ten-day event is expected to be made by 24 May 2023. World New Music Days 2023 will provide an important platform for the selected composer, and an important opportunity for Scotland-based creators to engage more widely with an international audience and raise the profile of Scotland's new music scene.
Rufus Isabel Elliot
Rufus Isabel Elliot is originally from Tower Hamlets, living now in Skye.
Rufus has written funerary music for doomed spaceships and orchestral music about rotting seaweed. It cares about honesty and openness. Its work is concerned with testimony, the conditions in which one speaks out, and how those stories are passed on Its music is 'fluid and ambitious' (The Wire) and 'stunningly intimate' (The Quietus).
Rufus has worked with the likes of the BBC SSO, Drake Music, The Night With..., sound festival scotland, Red Note Ensemble, The Riot Ensemble, Magnetic North, Knockvologan Studies, ATLAS Arts, and the Nevis Ensemble.
Elise Haller-Shannon
Elise Haller-Shannon is a composer, musician and educator currently undertaking a PhD at the Royal Conservatoire of Scotland.
Her research involves using contemporary music as a tool to describe and discuss the subjective experience of women, particularly in spaces where women's experiences have been historically underrepresented.
Elise is currently focussed on exploring where these experiences intersect with Scottish identity, history and music.
Kevin Leomo
Kevin is a Scottish-Filipino composer of experimental music based in Glasgow. He is interested in silence, fragility, perception, and liminality. His practice involves collaboration, improvisation, non-standard and text-based notation, and working cross-culturally.
Kevin recently completed a PhD at the University of Glasgow, where he now teaches composition. He runs the 2 experimental music series Sound Thought, co-hosts the practice-research podcast Essential Blends, and plays in the duo Dronehopper. Kevin is an Oxford Contemporary Music Boom Artist and is participating in Sound and Music's 'Adopt a Music Creator', collaborating with the Scottish Chamber Choir. He participated in Wandelweiser's Composers Meet Composers 2022.
Ben Lunn
'A Radical Optimist' – Aleksandra Line, Mūzikos Saule
Winner of two Scottish Music Awards 2020 for his work with Hebrides Ensemble and Drake Music Scotland.
In September '22, Ben was selected for the Royal Philharmonic Society's Composer Scheme, which sees him paired with Music in the Round; his selection to the scheme saw him become the first composer from North-East England to be selected for it.
In 2021, Ben helped found the Disabled Artist Network, an organisation which is bridging the gap between the professional world and disabled artists.
Ben is chair of the Musician's Union's Scottish and North of Ireland Regional Committee, and is chair of the North Lanarkshire Trades Council. He also contributes to the Morning Star and Culture Matters.
Neil T Smith
Neil Tòmas Smith is a composer of chamber, orchestral and choral works based in Edinburgh. He is fascinated by the mechanics of sound, space and movement.
Neil studied in York and Stuttgart, the latter leading to a keen interest in German contemporary music. He won first prize in the Acht Brücken Competition with Gravitation, and his orchestral work, Habitus,was performed by the WDR Symphony Orchestra. Recently, Neil took part in the Royal Scottish National Orchestra's Composers' Hub and the London Philharmonic Orchestra's Young Composers' Programme.
Neil's Strange Machines will feature on a CD released by Dark Inventions in 2021.
Aileen Sweeney
Aileen is a composer and accordionist who studied at The RCS for her undergraduate and postgraduate degrees.
Aileen's recent success at The 2021 Scottish Awards for New Music, saw her piece 'Above the Stars' win the award for 'Large Scale New Work' sponsored by PRS.
Brought up around folk music, Aileen loves rattling out some reels on the box alongside her work as a composer. If she's not composing or gigging with her bands, she can probably be found climbing up a hill, binging on a Netflix documentary or venturing to a Scottish island in her tent.