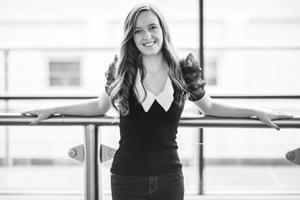 Erin Thomson
Creator
Biography
Erin Thomson (b. 2000) is a Scottish composer from Glasgow. She has recently graduated from the Royal Conservatoire of Scotland, studying composition under the tutelage of Dr. Linda Buckley. Here she earned a first-class honours degree with an endorsement of Music Education with Distinction.
Recent commissions and performances include a commission for Gaia duo (Call it Eternity, 2020), numerous works for Red Note Ensemble (Focussed on Obscurity, 2020; Divided Light, 2021), a collaboration with RCS and University of St Andrews with PhD Researcher Stuart Burrell (Infinite Kaleidoscope, 2020), and a short, comedic work featured on Sarah Watts new album, Feed the Hound, raising funds for Kit Wilson Trust (The Puppy, 2020). Erin was also the RCS Brass Composer in Residence from 2019-2021, composing new works for brass ensembles (Gwerz á la Drone, 2020; Through the Headlights, 2021) and soloist, Anya Liggins (Moved to Tiers, 2021). Additionally, Erin received 1st prize in the RCS Walter and Dinah Wolfe Memorial Award for her work Linger to Sea (2021), premiered by Daniel Pioro.
External to studying composition, Erin thrives for education and community projects and has experience ranging from nursery children to high school students. This passion is something she aims to pursue further during her future studies as she embarks on her Masters in Music, specialising in composition at the Royal Conservatoire of Scotland in Autumn 2021.
---
Contact email
Works
See the full list of works by Erin Thomson
Events