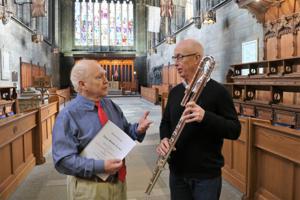 Ewan Robertson
Performer (individual)
Description
Ewan Robertson began his career in the Orchestra of Scottish Opera to which he returned in 2016. He played flute, piccolo and alto flute in Stuart MacRae: Anthropocene, and Liam Paterson: The 8th Door. Prior to this, he was a member of the BBC Scottish Symphony Orchestra during Ilan Volkov's tenure as chief conductor and enjoyed playing a lot of contemporary repertoire including pieces by Eddie McGuire, Stuart MacRae, James MacMillan, James Dillon and Jonathan Harvey: he is playing alto flute and bass flute on this recording of 'Speakings':
https://open.spotify.com/album/3OMLgBZDCHIIZhA1tigaNc?si=wNDFgY9pQdSdPnm0z2Rzuw
Before joining the BBC SSO he was co-principal piccolo in the Orchestra of the Royal Opera House, Covent Garden when Bernard Haitink was Music Director.
In the 1980s and early 1990s he was the flute player in the Paragon Ensemble and played in many first performances including works by Eddie McGuire, James MacMillan, Bill Sweeney, Martin Dalby and Thomas Wilson.
In 2017 Eddie McGuire wrote 'Three Donne Lyrics' for the Choir of Paisley Abbey with Ewan Robertson on bass flute. The first performance was in April 2018, the piece was recorded in January 2020 and was released on the Priory Records label in November 2020:
https://open.spotify.com/album/3VqCPixxo87ALwKuCTq94h?si=CzMboXijRSWX77Kjje7Cwg
Subsequent to the first performance he played 'Three Donne Lyrics' with the Arkleston Singers. A performance with the Mayfield Singers in Saint Magnus Cathedral is planned at a future Orkney International Science Festival along with a programme of music for alto flute and bass flute with electronics by Michael Oliva.
Ewan plays bass flute, alto flute, piccolo and whistle in the group "Alastair Savage & Friends".
---
Contact email