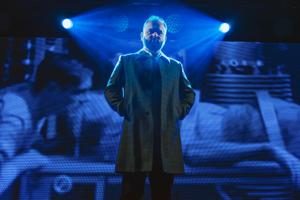 Marco Cafolla
Performer (individual)
Description
Marco Cafolla is a Scottish Artist/Composer/Producer & Musician, masterminding the award-winning 'Federation of the Disco Pimp', 'CAFOLLA' & 'Mama Terra'.
Since 2010, CAFOLLA has been fronting the award-winning 'Federation of the Disco Pimp'. Writing for, and leading the band through 2 Studio albums, 1 Live album, a BBCOne residency as house band for 'Tonight at the Games', collaborating with music legends like Pee Wee Ellis (James Brown, Van Morrison) and shared the stage with the likes of Nile Rodgers & CHIC, George Clinton & Parliament, Grandmaster Flash, Sister Sledge, Snarky Puppy, James Taylor Quartet to name a few.
Collaborating with Grammy nominated Producer Joel Hamilton, CAFOLLA wrote 'More than Dancing' & 'Inamorata' that were made in Studio G 5000, Brooklyn, NY with FOTDP. Guests on the records include Aaron Livingston (Son Little, The Roots), Eric Krasno (Soulive, Lettuce), Dave Guy (The Roots, Daptones) & Sasha Dobson (Nora Jones, Puss n Boots). Mastered by Grammy winner Brain Gardner (Outkast).
CAFOLLA was Musical Director for his house band 'Federation of the Disco Pimp' Live on BBC ONE, creating & arranging stings for guest walk ons, his original music was used as the theme for the show's start & end. He was also Musical Director for house band 'The Easy Orchestra' Live on BBC Radio Scotland each week, for both, CAFOLLA created stings & content, working closely with directors, hosts, & show producers to shape formats & programme.
CAFOLLA released his first solo record 'Cowboys & Africans' to critical acclaim in 2019, charting at Number 2 in the iTunes R&B/Soul charts, winning numerous 'Album of the Year' awards, lead single '1985' voted 19th in Herald Scotland's Top 100 songs of 2019. "COWBOYS & AFRICANS: ACOUSTIC SESSIONS" topped the U.K Singer/Songwriter Album iTunes charts at Number 1 on it's release March 22nd 2020. Follow up album 'The March Onto Forever' will release on July 8th 2022 and already lead single 'The Running Man' has been featured as Single of the Week on BBC Radio Scotland.
CAFOLLA has also MD'd for worldwide institutions like BBC ONE & toured as Musical Director with household names including Susan Boyle (Ten Tour).
---
Residence/Main Office
Glasgow, Scotland
---
Year of birth
1981
---
Contact email