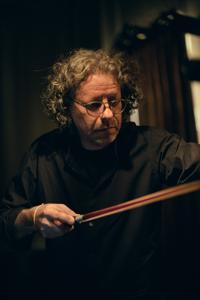 Renzo Spiteri
Creator, Performer (individual)
Instruments
Electronics, Percussion
---
Professional skills
Sound editing
---
Biography
Renzo Spiteri (b. 1966) is a Shetland-based composer, percussionist and sound and multi-media artist who uses the sonic environment around him as primary source material that not only sets the tone to his work, but is also a powerful source of inspiration. He has a passion for improvisation, field recording, sound collection, composition and sound design, and their application in installations, live performances and sonic material for film/moving image that he creates. Through his work, Renzo seeks to bring about a deeper sensorial engagement between listeners / audiences and his work, be it in public spaces, performance venues, film, art galleries and museums. His on-going artistic research focuses on site-responsive and site-specific installation and performance aesthetics as responses to rural environmental atmospheres.
Sound Migrations is a website that documents Renzo's on-going sound journey and artistic practice.
As a composer, creative musician and improviser, Renzo has a distinct artistic sensitivity and ability of adapting to a wide range of musical styles. Throughout the years he has performed around the world in major festivals (WOMAD, Festival of the Desert, Sonorities, Musica Viva, PASIC) and venues (Royal Festival Hall- London, Jerwood Hall LSO St. Luke's- London, Kennedy Centre for the Performing Arts- Washington DC, SOTA- Singapore, National Concert Hall- Dublin, Babylon Club- Istanbul, Ludwig Forum- Aachen amongst others), and in July 2016 was invited to be part of the multi-national Mediterranean Concert at the Room of Human Rights and Alliance of Civilisations at the United Nations Headquarters in Geneva.
Renzo's on-site projects include scoring and recording of music for the visitors' audio guide at Hal-Saflieni Hypogeum (Malta), a UNESCO World Heritage Site, which led to the creation of the concept album and live performance Silence, Sounds And Spaces (2011) featuring unique on-site recordings at various pre-historic sites on Malta.
Renzo has collaborated with the music departments at Queen's University (Belfast), University of Iowa (USA), China Conservatory of Music (Beijing) and The Royal Conservatoire of Music of The Hague (The Netherlands), and was appointed artistic director of the Malta World Music Festival (2016-2018). Renzo is a trustee of Shetland Arts Development Agency and holds a Master of Arts degree (with distinction) in Sound Arts from Oxford Brookes University.
Website: www.renzospiteri.com
Social media pages: Facebook, Instagram, Twitter
---
Contact email
Works
| Title | Year composed | Instrumentation Genre |
| --- | --- | --- |
| Stillness | 2019 | Other |
See the full list of works by Renzo Spiteri
Events