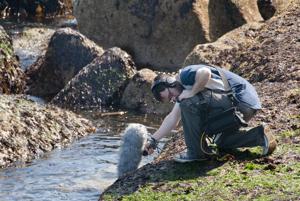 Timothy Cooper
Creator
Biography
I am a composer and performer of electroacoustic music. My compositions reflect a love of performance born from my studies as a euphonium player and from playing with my parents radio set. This performance is reflected in the kinds of sounds I seek out and in the way that I use them both instrumentally and in the electroacoustic studio.
Between 2012 and 2019 I taught various composition based modules at Edinburgh College particularly focussing on experimental approaches to live electronics. Since 2015 I have lectured at the Royal Conservatoire of Scotland in Music Technology.
In 2010 I co-founded Edit-Point, a group that dedicated themselves to the presentation and performance of electroacoustic music.
In my spare time I am a keen cyclist, often pedalling around the West of Scotland, and badminton player.
---
Articles
News and New Projects
...shadows that in darkness dwell...
,
Tide Times
,
Breathing Space
,
Mechanical
---
Residence/Main Office
Glasgow
---
Year of birth
2010
---
Contact email
Works
See the full list of works by Timothy Cooper