The SMIA Award for Creative Programming
A tricky category as there was a mixture of single programmes, bodies of work, and audience development initiatives to look at. The issues of artistic integrity, impact, and creative thinking were key to the discussion, and the panel were very impressed with more things than could fit onto the shortlist.
Panel: Eve O'Donnell, David Pickard, Kate Ellis
Sonic Bites – Cryptic
very impressive, well thought out with a wide reach, top quality content with excellent production values
https://newmusicscotland.co.uk/profile/cryptic/
Watch: https://vimeo.com/showcase/8440011

SONIC BITES: A sensory series of audiovisual appetisers...
Following considerable planning and research during the first lockdown, Sonic Bites was developed in response to the many live streamed events online which Cryptic felt were often lacking in quality and programmed in the evenings and weekends when people were actively seeking a break from on-screen activities. We wanted to offer something different, with high-quality, free, digital music events specifically created for the screen and programmed regularly during lunchtimes (every second Thursday) when people were still at their desks to give them an inspiring, cultural escape from admin, emails and online meetings.
"WITH COVID-19 SHOWING NO SIGN OF ABATING, GLASGOW LUMINARIES CRYPTIC ARE TAKING AN AMBITIOUS NEW APPROACH TO LIVE STREAMS." The Skinny
For its many negatives, lockdown has also opened new windows of opportunity for artists to explore different approaches to digital collaboration and projects. This series has enabled us to continue our role in developing talent, commissioning new work and increasing the profile of both emerging and established artists at a time when many were struggling for support and most importantly, paid work.
"THE FIRST IN THE SERIES IS A BEAUTY - ENIGMATIC AND GENTLE." The Wire
From September – December 2020, Sonic Bites programmed diverse digital music events by 27 artists, presenting developed or new work exploring everything from the 1981 El Mozote Massacre (The Other Side of The River), abstract virtual landscapes (Breaking Reverie Revisited), a secret 16th century Islamic language (Mugam Sayagi), and chance-led interactions with people and places across three Taiwanese cities (Táifēng and the Motorway Saint); to distinct miniature soundworlds combining piano, harp, accordion and electronics (The Owen Wilson Elegies), the changing of the seasons (A Light Beyond), the checquered history of Paris' Musée d'Orsay (La Salle des Fêtes), and the fraught, frightening space between sleeping and waking (The Terror).
"FOR CRYPTIC... IT HAS PRESENTED A NEW CHALLENGE AND A NEW MEANS TO INNOVATE." Bella Caledonia
Whilst the Sonic Bites series was initially only intended to continue until Christmas, owing to demand from artists and audiences (see below), we are now fully programmed up until July 2021, having recently received 179 applications through open call. Several of the works in the series have also subsequently toured digitally to international festivals, most recently São Paulo's Cultura Inglesa. Beyond Sonic Bites, this success means that even when the pandemic has passed, digital programming will become a bigger part of Cryptic productions than ever before and we are already planning, and will deliver, several more digital-led and hybrid events throughout 2021and into 2022.
Breathe and Draw – Nevis Ensemble/Alex Ho
very effective piece which was impressively inclusive. Really fresh, different idea, that captured the imagination.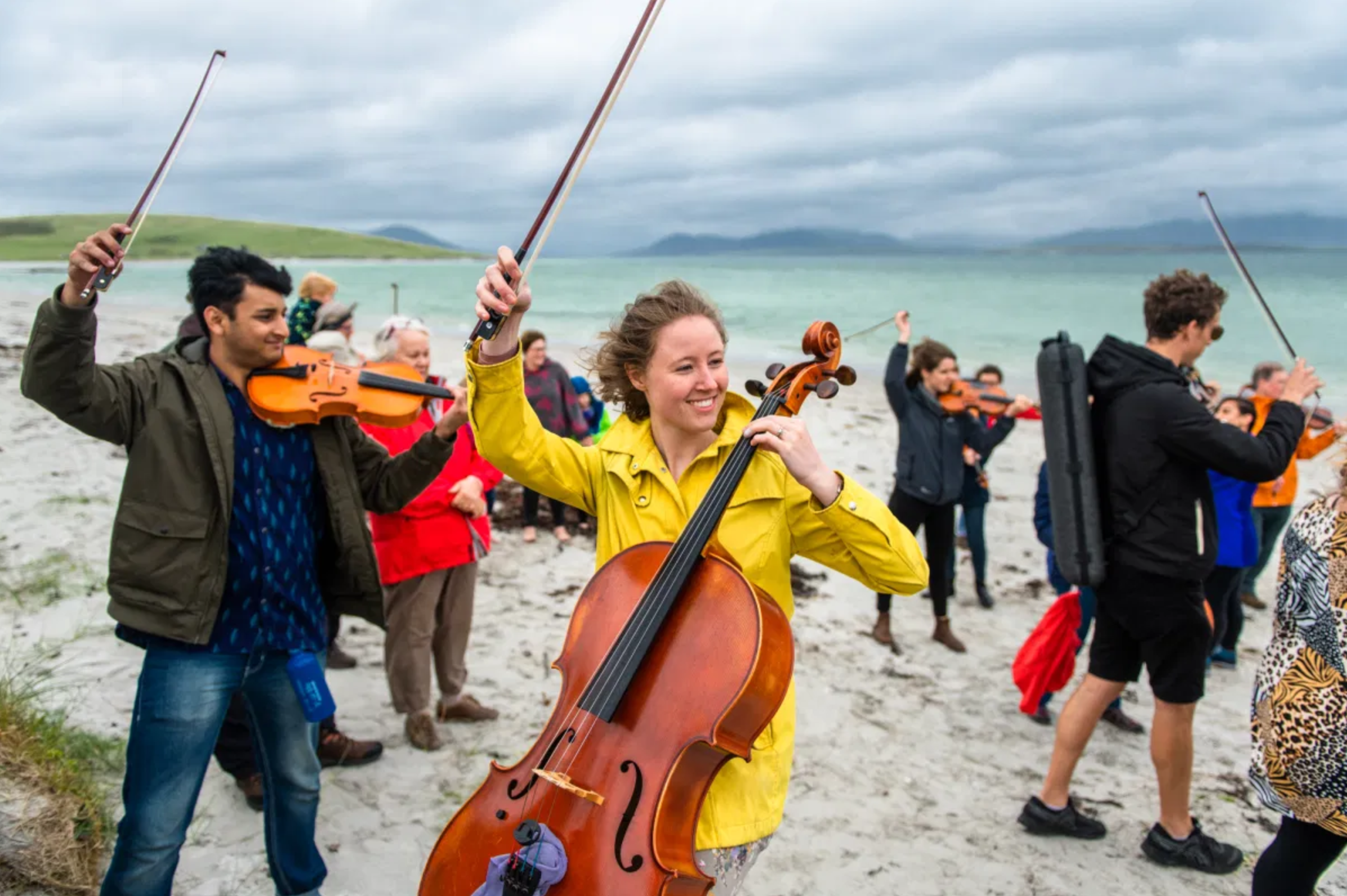 As a response to the difficulties of 2020, Nevis Ensemble wanted to commission a Christmas programme that would reflect those challenges whilst looking ahead to the future in hope. To complement new arrangements of traditional carols to be performed by Nevis Ensemble and mezzo soprano Andrea Baker during its December 2020 recordings, we commissioned two new carols for Scotland. We firstly commissioned two poets, Stuart Paterson and Marcas Mac an Tuairneir to write texts in Scots and Scots Gaelic respectively. To have new, relevant, texts seemed integral rather than borrowing from existed poetry or lyrics. Marcas' text reflects on the challenges of the pandemic, and the suffering and poverty that have resulted, with an acknowledgement of the flicker of hope that can sustain people through. Stuart's text is more overtly 'festive' and speaks of getting together and enjoying each other's company in person; something that most had been unable to do over the year. We chose two composers after an application process that saw more than 200 musicians apply; Ailie Robertson and Harry Baines. 15-year old Harry was chosen after a schools competition open to any student under 18 studying in Scotland. He received mentoring from composer Stuart MacRae, and sessions with Stuart Paterson on text setting and Andrea Baker on writing for voice. This was Harry's first time writing for orchestra, and offering that opportunity to a young musician at such a formative time seemed a wonderful thing to do. Ailie set Marcas' text for solo saxophone and speaker. During the recording, Marcas acted as reciter for the text. Both pieces speak different musical languages yet complement each other and the more traditional carols. The new works were broadcast on Christmas Day, which an online audience to date of around 100,000 people.
Sound Festival 2020 – Sound Scotland
huge range and variety of programming, with strong threads within the overall programme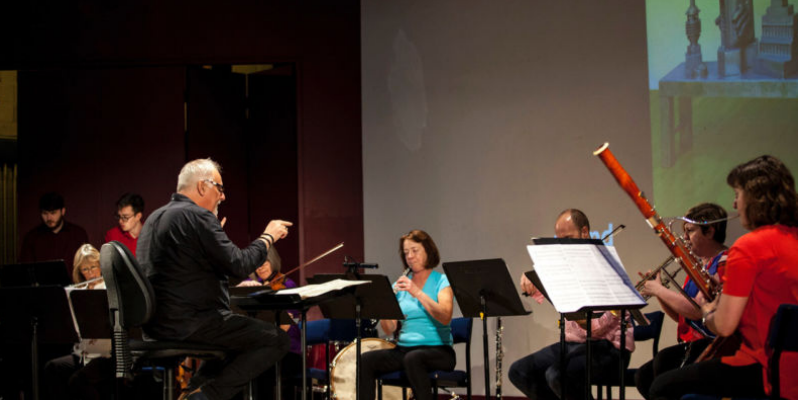 As Chair and Director of sound, since late March 2020, Pete Stollery (Chair of sound) and Fiona Robertson (Director of sound) have worked closely together to contribute to keeping new music alive and kicking in Scotland. They led the sound team through a difficult year for live music with a double focus: providing more opportunities for composers and performers to be able to continue activity; and providing listening and engaging opportunities for our audiences, albeit in different and limited ways. They supported each other and the whole sound team through an extremely challenging time: some staff members had to juggle the chaos of home-schooling and work; others suffered from isolation; and the whole team was impacted with the cancer diagnosis and subsequent loss of Fiona's husband in October 2020. Fiona carried on working through much of this period, until Pete stepped down temporarily as Chair and became a freelance employee of sound in order to lead the team, keeping in touch with Fiona on a regular basis. Despite all of this, the team were extremely positive about what we managed to achieve over the past year, and how creative we'd had to be.
Right from the start of lockdown, the sound team decided that they wanted to pursue every possible way of continuing to work, rather than sitting out the pandemic and waiting for the situation to get back to normal. This meant significant change in the way sound operated but, as Pete and Fiona have worked closely on artistic programming since the inception of sound in 2004, they were able to draw on their relationship and joint experience to create an enhanced programme of work, at a time when any type of musical activity was difficult. During this time, working closely with the sound team, they managed to coordinate a number of activities nourishing composers, performers and listeners over lockdown.
Lockdown Composing was a skills development opportunity and commission, offered by sound to freelance Scottish-based composers in response to the initial COVID-19 lockdown and its impact on music creators, and allowing our local new music ensemble, Any Enemy, to carry on meeting and playing together in person, albeit on zoom! Selected from an open call, four works for live performance on zoom were commissioned from Rufus Isabel Elliot, Rylan Gleave, Lisa Robertson, and Aidan Teplitzky and were performed live in separate locations over zoom on Sunday 14 June 2020. The composers were supported through the challenges of writing for live performance on zoom by Pete, including an online zoom workshop and three rehearsals with the ensemble. During the recorded event Pete and the composers discuss the challenges, opportunities and complexities of creating a piece of music for online performance by musicians in separate locations. A second edition, Lockdown Composing 2, included new works by Ollie Hawker and Pete, and a final part of the project which took place in January, included musicians from Brandon University (Canada) and also comprised works by Michel Ducharme, Melody McKiver and Keith Hamel. These were performed during the second edition of the soundfestival 2020.
Covfefe (Composer Covid Coffee) sessions were set up early on during lockdown in May 2020 to provide a fortnightly informal online space for composers around Scotland to share experiences and discuss issues in a supportive community environment. Initially, this was Scotland-wide but has also included composers from Europe and US.
soundcast LIVE! was set up in April 2020 to provide an hour of curated streamed programming of new music for our audiences via zoom, including an audience Q & A. Presenters have including Colin Riley, Stephen Montague, Claire Singer, Ailie Robertson, Juliet Fraser, Laura Bowler, Ben Lunn and Neil Smith.
A Performer/Composer programme was initiated during lockdown and consisted of zoom seminar and tutorial sessions for performers of new music who wanted to develop their compositional skills.
Benefiting from the learning of the above sessions, notably the ease of delivery and the low cost of providing them, a new initiative for composers (opensound) started at the end of March, allowing emerging composers to benefit from the skills of experienced composers and musicians. An initial session with Juliet Fraser was successful and the programme is now up and running for 2021-2022.
A planned live conference for composers on the autism spectrum turned into a one-day zoom conference: Neurotribes. It brought together promoters, ensembles and composers on the autism spectrum and provided a space to discuss the challenges facing composers on the spectrum and explore how to enable greater inclusion and facilitate effective and supportive working relationships. The conference was an initiative that arose from ongoing discussions between sound and a small group of neurodivergent composers, and was organised by sound, Drake Music Scotland and autistic composer Ben Lunn. A document aimed at supporting promoters and ensembles to work with neurodivergent composers, We Need to Thrive, was prepared during 2020-2021 and is now about to be shared widely.
As well as the above activity, the vast majority of which was created in creative response to lockdown constraints, we remained nimble enough to navigate our way through the government restrictions and provide two 4-day festivals of new music: one in October 2020 with live streamed performance; and one in January 2021 with recorded performances presented through live zoom events with live composer Q+As. These events allowed us not only to connect with existing audiences but to reach out to new audiences who wouldn't normally have attended live sound events, and from much further afield.
2020 programme - Scottish Ensemble
included several very impressive programmes and projects where new music was core. Original thinking and approaches, which were highly engaging, creative, and full of imagination.
https://scottishensemble.co.uk/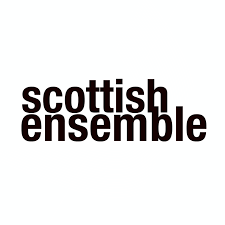 We Are In Time
: Scottish Ensemble, in collaboration with Untitled Projects
These Bones This Flesh This Skin: https://www.thesebonesthisfleshthisskin.com]