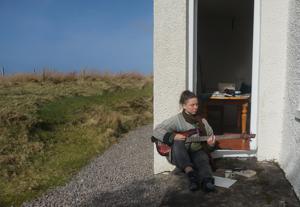 Rufus Isabel Elliot
Description
Rufus Isabel Elliot is a composer and musician from Tower Hamlets, based in Glasgow.
Rufus has written funerary music for doomed spaceships and orchestral music about rotting seaweed. It cares about honesty and openness. Its work is concerned with testimony, the conditions in which one speaks out, and how those stories are passed on.
​
Since washing ashore in Glasgow two years ago, Rufus has worked with the likes of sound festival scotland, Red Note Ensemble, Magnetic North, and the Nevis Ensemble, with whom it was composer-in-residence in 2019. Current projects include a new album with composer/violinist Harry Gorski-Brown, and a new longer-form piece with mezzo-soprano Lea Shaw.
​
Recent collaborations have included joint composition and performance work with artist Iman Tajik and composer Fergus Hall, and several projects with poet Ella Frears. Rufus has performed as an improviser both as an instrumentalist and as a laptop performer, and as a performer in diverse experimental contexts, from Fluxus concert works to site-specific performance events.
​
In addition, Rufus produces OVER / AT, a trans, non-binary, and gender-diverse music-making world, which encompasses live touring projects, recording projects, workshops, online learning resources, and more.
​
Rufus recently completed a masters degree in composition at the Royal Conservatoire of Scotland, studying with David Fennessy. Its postgraduate studies were supported by the EMI Sound Foundation and by a postgraduate scholarship from the RCS Trust. In 2017, Rufus graduated from the University of Oxford with first class honours.
​
​
---
Works
See the full list of works by Rufus Isabel Elliot
Events
| | | |
| --- | --- | --- |
| Date | Title | Venue |
| 28 Sep 2021, 7 p.m. | OVER / AT presents: A/am/ams (come ashore; turn over) | Civic House, Glasgow, Scotland, UK |
| 28 Sep 2021, 8:15 p.m. | OVER / AT presents: A/am/ams (come ashore; turn over) | Civic House, Glasgow, Scotland, UK |
| 2 Oct 2021, 7 p.m. | OVER / AT and ATLAS Arts present: A/am/ams (come ashore; turn over) | Elgol Village Hall, Isle of Skye, Scotland, UK |