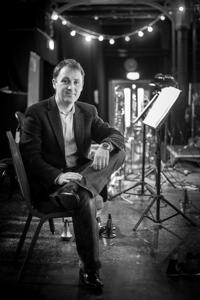 Stuart MacRae
Creator, Educator, Performer (individual)
Instruments
Piano
---
Professional skills
Arranging, Typesetting, Research, Proof reading, Orchestration
---
Biography
Born in Inverness in 1976, Stuart MacRae has established himself as one of the most distinctive composers working today, writing music of elemental power and emotional subtlety. His works include a Violin Concerto (2001), Hamartia for cello and ensemble (2004), and Gaudete for soprano and orchestra (2008), all of which have been performed at the BBC Proms. Works for the stage include the dance-opera Echo and Narcissus (2007) and the opera Ghost Patrol (2012), a collaboration with writer Louise Welsh for Scottish Opera and Music Theatre Wales, which won the 2013 South Bank Sky Arts Award for Opera and was shortlisted for an Olivier Award.
Stuart's music has been performed at the Royal Opera House Covent Garden and the Edinburgh International Festival, and by ensembles including the Scottish Chamber Orchestra, Scottish Ensemble, Hebrides Ensemble, BCMG and London Sinfonietta, as well as numerous orchestras. Stuart was Composer in Association with the BBC Scottish Symphony Orchestra from 1999 to 2003 and with the Lammermuir Festival from 2017 to 2019. He was resident composer at the Spannungen Kammermusikfest in Heimbach, Germany in 2003, and Edinburgh Festival Creative Fellow at the University of Edinburgh from 2005 to 2006. From 2006 to 2007 he was a resident composer at Internationales Künstlerhaus Villa Concordia in Bamberg, Germany.
Recent projects include the opera Anthropocene, written for Scottish Opera, Courante, for the Dunedin Consort and the BBC Proms, and a series of works based on the Prometheus myth for the Lammermuir Festival that culminated in the Prometheus Symphony.
Management: Rayfield Allied
---
News and New Projects
New album - prismatic - released 24th June
---
Residence/Main Office
Edinburgh
---
Contact email
Works
See the full list of works by Stuart MacRae