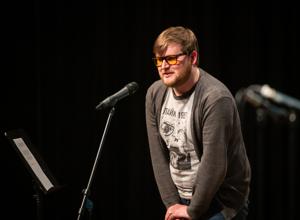 Ben Lunn
Creator, Curator
Biography
Powerful, poignant and deeply moving, Lunn's composition certainly represents the spirit of Disability History Month 2018 and our current struggle for justice. – Gemma Nash, Disability Arts Online
Winner of two Scottish New Music Awards for his work with Hebrides Ensemble and Drake Music Scotland. Lunn is associate artist for Drake Music and Drake Music Scotland, and Trainee Artistic Director of the Hebrides Ensemble. Current projects include a concerto for piano quartet and string orchestra which he will be developing during residency time at the Britten-Pears Foundation's 'composer retreat' in autumn 2020 and a new work for the Royal Northern Sinfonia, and a theatrical collaboration with Daryl Beeton Productions. In addition Lunn is inaugural recipient of Creative Scotland's Create:Inclusion fund, for which he produced a work for string quartet and electronics, and a work for BSL interpreter and ensemble. In spring 2020 Lunn was elected to the Musician's Union Equalities Committee.
Lunn's music has been described as 'Evocative', 'Restrained Otherwordliness', 'Chilling', 'sophisticated and most importantly obsessive' or 'produces…glorious roaring sounds' and 'desolate monotone'. He has also been referred to as a 'Composer of life music'.
Ben Lunn is a Mackem composer who studied at the Royal Welsh College of Music and Drama under the guidance of Peter Reynolds, and also the Lithuanian Academy of Music and Theatre with Marius Baranauskas. He has also received mentorship from composers Param Vir and Stuart MacRae. Since graduating from his Master's Lunn relocated to Glasgow, where he currently resides; working as conductor, musicologist, teacher and composer. As a composer, Lunn's music reflects the material world around him, connecting to his North-Eastern heritage or how disability impacts the world around him or his working-class upbringing.
Lunn's work has been featured in many leading international festivals including Vale of Glamorgan, London New Wind Festival, Druskomanija, DaDaFest, Arēna Festivals, Leeds Leider+, Zilele Muzicale Aniversare, HASS FEST, Toronto Contemporary Music Lab, Second Movement's Rough for Opera, and Occupy the Pianos. He has had the privilege of working with leading international ensembles and soloists including N.A.M.E.S, Sofia Soloists, Lithuanian National Symphony Orchestra, Quadra Quartet, Hebrides Ensemble, Digital Orchestra, NOYO, Ensemble Synaesthesis, Music Theatre Wales, Lore Lixenberg, Ligeti Quartet, ÖeNM, Ensemble X and Y, Nikolai Matsov, Rolf Hind, Francoise-Green Duo, Garth Knox, Lore Lixenberg, Ember Septet, 5K Brass, Zubin Kanga, Martynas Levickis, JVLMA, and Jauna Muzika.
As musicologist, Lunn's specialities focus on Baltic Music, Horaţiu Rădulescu, and Composing and Disability. He has had the honour of lecturing at some of the world's leading academic institutions including Fordham University, Mozarteum, RWCMD, Royal Conservatoire of Scotland, Komitas Conservatory, Durham University and Amsterdam Conservatoire. His articles have been published across Germany, UK, US, Russia, Lithuania, and collected by the Arvo Pärt Centre. He has also written for the Music Information Centre of Lithuania and Latvia.
---
Residence/Main Office
Airdrie
---
Contact email
Works
See the full list of works by Ben Lunn
Events
| | | |
| --- | --- | --- |
| Date | Title | Venue |
| 14 Jun 2022, 7 p.m. | Drake Music Scotland and Hebrides Ensemble present ECHOES, a concert of new music by disabled composers. | The Queen's Hall, Edinburgh, Scotland, UK |
| 14 Jun 2022, 7 p.m. | Drake Music Scotland and Hebrides Ensemble present ECHOES, a concert of new music by disabled composers. | The Queen's Hall, Edinburgh, Scotland, UK |