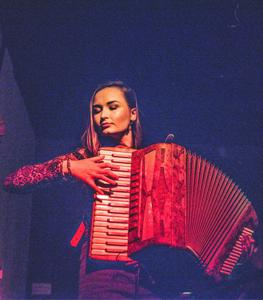 Aileen Sweeney
Creator, Educator
Biography
Aileen (b. 1994) is a Scottish composer, arranger and accordionist based in Glasgow and enjoys a varied career as a freelance musician.
Aileen's music is cross-genre, infused with the ornamentation, energy and colours of the Scottish folk music she grew up playing when learning the accordion. Her inspiration comes from stories as well as current social/political topics she is passionate about such as climate change, equality and politics. She has worked with ensembles such as The London Philharmonic Orchestra, The Red Note Ensemble, The Hebrides Ensemble, The Psappha Ensemble, The Edinburgh Quartet and The Brodick Quartet.
Aileen is currently studying her M.Mus degree in composition at The Royal Conservatoire of Scotland. She is grateful to have received scholarships from The Dewar Arts Fund, The Countess of Munster Musical Trust, The Cross Trust and The North Lanarkshire Arts Award.
In July 2017, Aileen graduated from the Royal Conservatoire of Scotland with a First class B.Mus (hons) in performance having studied accordion and composition. During her undergraduate degree, she was awarded the Geddes-Peterson prize for composition and well as first place in the Dunbar-Gerber prize for chamber music and the Tony and Tania Webster solo recital prize.
As an accordionist, she has performed with some of Scotland's leading contemporary music ensembles such as Ensemble Thing and NOISE Opera. In 2016, she founded the folk-fusion band Eriska who launched their debut album "At the Wrong Gig" in 2018 and are releasing their latest EP this year.
Find out more: https://www.aileensweeney.com
---
Residence/Main Office
Glasgow
---
Year of birth
1994
---
Contact email
Works
See the full list of works by Aileen Sweeney
Events
| | | |
| --- | --- | --- |
| Date | Title | Venue |
| 22 Jun 2022, 7 p.m. | The Good Company Tour | Mareel, Lerwick, Scotland, UK |
| 24 Jun 2022, 6:30 p.m. | The Good Company Tour | The Mission House, Isle of Harris, Scotland, UK |
| 25 Jun 2022, 7:30 p.m. | The Good Company Tour | Poolewe Village Hall (West Coast Arts), Poolewe, Scotland, UK |
| 27 Jun 2022, 7:30 p.m. | The Good Company Tour | St Mary's Church, Portree, Scotland, UK |
| 28 Jun 2022, 7:30 p.m. | The Good Company Tour | Ceilidh House, Arnisdale, Scotland, UK |
| 29 Jun 2022, 7:30 p.m. | The Good Company Tour | Cowdray Hall, Aberdeen Art Gallery, Aberdeen, Scotland, UK |
| 27 Apr 2021, 5 p.m. | Art-Making in the Anthropocene - Concert by Katherine Wren and Nordic Viola | Youtube, Glasgow, Scotland, UK |
| 12 Jun 2021, 7 p.m. | unbound sound: 12 & 13 June 2021 | Queen's Cross Church, Aberdeen, Scotland, UK |
| 13 Jun 2021, 2 p.m. | unbound sound: 12 & 13 June 2021 | Footdee War Memorial, Aberdeen, Scotland, UK |
| 13 Jun 2021, 4 p.m. | unbound sound: 12 & 13 June 2021 | Queen's Cross Church, Aberdeen, Scotland, UK |
| 19 Nov 2021, 1 p.m. | Red Note at hcmf// | Huddersfield Town Hall, Huddersfield, England, UK |