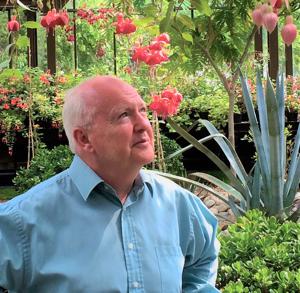 Eddie McGuire
Creator, Performer (ensemble), Performer (individual)
Biography
Edward McGuire - a short biographical note:
Glasgow-born Edward (Eddie) McGuire studied with James Iliff at the Royal Academy of Music and Ingvar Lidholm in Stockholm. He received a British Composers Award in 2003 and has been featured composer at festivals including Bath International Guitar Festival, International Viola Congress, Edinburgh International Harp Festival and Scottish International Flute Summer School. The BBCSSO London Proms performance of his symphonic poem Calgacus was selected for BBC Music Magazine's CD 'The Very Best of the BBC Orchestras' (1997). Commissions and broadcasts have included those from St Magnus Festival, Edinburgh International Festival, Lorient Festival, Glasgow Festival Strings, Scottish Chamber Orchestra, Ulster Orchestra, Scottish Ballet and BBC National Orchestra of Wales. He writes for and plays with The Whistlebinkies folk group. Both his CD collections (Delphian Records) achieved 'Editor's Choice' in Gramophone Magazine - Eddie McGuire: Music for Flute, Guitar and Piano (2006) and Entangled Fortunes (2015). His Three Donne Lyrics have recieved several radio plays in 2021 following Paisley Abbey Choir's release of the CD 'Celtic Prayer' on Priory Records.
Edward McGuire - autobiographical note
Thanks to the University of Glasgow's McEwen Bequest, my career was kick-started by commissions premiered there. These included my first - from James Durrant in 1972 - Martyr for violas, followed by Liberation (1975; marking the end of the Vietnam War) for the New Music Group of Scotland and Wind Octet (1980). Larger scale works ensued - like my symphonic poem Calgacus (premiered and broadcast live in the Bute Hall, University of Glasgow 1976). Others celebrating my home city are Clydebuilt (for the Ulster Orchestra), Hall of Memories (for opening of the refurbished Glasgow City Hall), Junk Shop Blues (after Joan Eardly's painting of a 1950s 'rag and bone' shop) and Riverside celebrating the Clyde and its ships (performed by The Whistlebinkies and Scottish Chamber Orchestra 1991); operas to librettos by Marianne Carey - a 3-act opera The Loving of Etain (Paragon Opera, 1990) and Cake-Talk (a Scottish 'creation myth' for RSNO and 100-strong RSNO Junior Chorus celebrating its 25th anniversary in1996); and a 3-act ballet Peter Pan - faithful to the JM Barrie original - performed over 120 times by Scottish Ballet and Hong Kong Ballet between 1989 and 1996.
My enthusiasm for voices came to fruition in such works as The Pipes of Peace for solo bagpipes (again performed by Robert Wallace) with the 80-strong RSNO Chorus for their 1986 tour of Israel and Palestine and repeated at the Musica Nova festival. A vocal highlight was writing Let the Games Begin for the 2014 Commonwealth Games festival for Glasgow Chamber Choir, setting a new poem that I in turn commissioned from Tom Furniss. In 2017 I worked again with Tom Furniss (Senior Lecturer in English University of Strathclyde) to compose a work for Heriot-Watt University Choir and New Music Group for performance in Iona Abbey - On Inchcolm. Tom and I were thrilled to hear it at the Abbey in June. My setting of poems by John Donne for Paisley Abbey Choir (conducted by George McPhee with Ewan Robertson on bass flute) premiered on March 4th 2018, titled Three Donne Lyrics. Priory Records has now released it on the CD Celtic Prayer. When John Wallace retired from the position of Principal of RCS, I was commissioned to compose a farewell piece, setting my own text in Songs from the North which has now been recorded by soprano Julia Daramy-Williams and The Wallace Collection brass quintet and released on CD.
Early on, my confidence in composing for strings was boosted by Rant being chosen as test piece for the Carl Flesch International Violin Competition (1978) and String Quartet for the 40th anniversary Barbican Gala of the SPNM (thrillingly, this was broadcast live on BBC Radio 3 by the Arditti Quartet). The 1972 success of Martyr led to Divertimento (for 20 Violas) and Viola Concerto (for the 1998 International Viola Congress). A body of work for guitar, including a Guitar Concerto, (largely commissioned by Phillip Thorne) led to my being Featured Composer at the 1996 Bath International Guitar Festival.
In recent years I have enjoyed greatly working with such fine ensembles as Paragon (in a piece dedicated to Martin Luther King Junior, Dangerous Orations), Sax Ecosse (Hidden Dialects - inspired by George Donald's tales of the Doric), Illuminati Wind Quartet (Winds at Sea - inspired by my voyages performing on National Trust for Scotland cruises), Kyle Horch's saxophone ensemble Flotilla (Remembrance - in memory of my parents), Mr McFall's Chamber (Nocturnes - a remembrance of the war in Yugoslavia), the Da Vinci Trio (Elegy) and the Edinburgh Quartet with Jessica Beeston, viola (The Silent Traveller Returns inspired by Chung Yee's Silent Traveller in Edinburgh) and with them, John Kenny (trombone) and Catriona McKay (Harp) in a brilliant recording of my Guest Sextet. The Monzani Trio performed my Four Dorset Folksongs and their string trio members were chosen to premiere my String Trio II - a McEwen Bequest Commission - at the University of Glasgow's Concert Hall in 2019.
Eddie McGuire April 2021
See list of selected compositions below:
---
Year of birth
1948
---
Contact email
Works
See the full list of works by Eddie McGuire
Events
| | | |
| --- | --- | --- |
| Date | Title | Venue |
| 8 May 2021, midnight | St Petersburg Triptychs | You Tube, online, None |
| 16 Jul 2021, 7 p.m. | Nocturne & Sunrise premiere | Tucherschloss Museum, Nuremberg, Germany, DE |
| 2 Sep 2021, 9 p.m. | Five Stars in Auriga | Online, Worldwide, None |
| 2 Sep 2021, 9 p.m. | Five Stars in Auriga | Online, Worldwide, None |
| 2 Sep 2021, 9 p.m. | Five Stars in Auriga | Online, Worldwide, None |
| 26 Sep 2021, 5 p.m. | Stars & Spectra Livestream Concert | Youtube, Glasgow, Scotland, UK |
| 12 Nov 2021, 4 p.m. | COP26 guitar concert | Science Show Theatre at Science Centre, Glasgow, Scotland, UK |